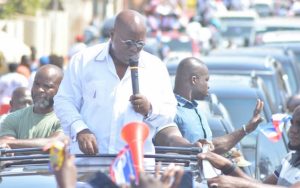 The flagbearer of the New Patriotic Party Nana Akufo-Addo has urged supporters of the party to shun complacency as the country readies for the December polls.
According to him, although he is confident of victory, it is important for every party member to go out and vote in order to ensure an absolute victory for the elephant family come December.
"On 7th of December, everybody has to go and vote. If you want change, you have to vote for the change. Everybody knows the wind of change is blowing everywhere we go. But I beg you, nobody should think that it is a done deal. We need everybody to vote," the former attorney general told supporters at Atebubu in the Brong Ahafo region, where he is currently campaigning.
The three-time flagbearer is seeking to unseat President John Mahama of the NDC in the December polls after losing to him in 2012, and earlier to the late John Evans Mills, also of the ruling NDC, in 2008.
On December 7, Ghanaians will go to the polls to elect a President and 275 parliamentarians.