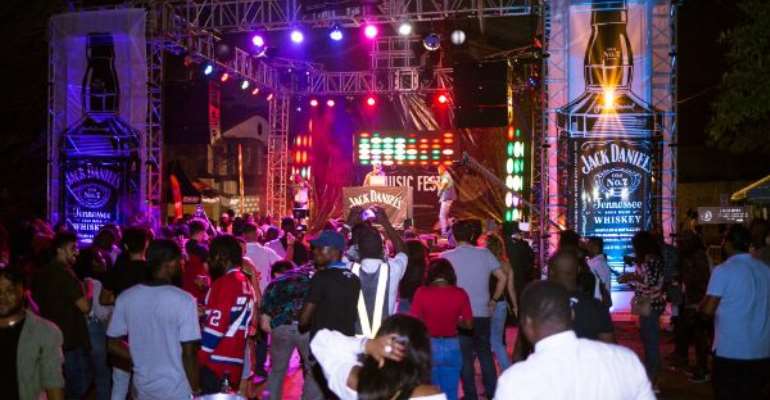 Recently, Jack Daniel's set the perfect stage in Accra to celebrate the authenticity and originality of Ghanaian music with the launch of Jack Daniel's Music Fest. Over 1000 music lovers thronged to the streets of Osu to witness unforgettable performances from over 20 upcoming and leading acts from Ghana's buzzing Dancehall, Afrobeats and Electro music scenes including Wendy Shay, Kuame Eugene, Opanka, Tulenkey, Quamina MP,  Kofi Mole, Ara B, Coco Trey, DJ Romeo and DJ Sly.
"Jack Daniel's and the music community has always been synonymous, with artists like Frank Sinatra making us part of the culture of music.  The JD Music Fest was our way of sharing our legacy of music and giving back to the community with a free show featuring phenomenal performances from great artists. We want to thank the Ghanaian music community for working with us to make the festival a huge success," shares Richard  Bouclaous, the Jack Daniel's Ghana, Brand Manager.
The performances took place on a state-of-the-art stage complete with a laser light show. The MCs Champagnee Lee and Joni Blaze introduced the opening performances from underground artists including Gucci Wale, Teshie Boy, Vanessa Nice and Future Conquerer.Veteran rapper Opanka brought nostalgia vibes when he performed "Taste" and "Tie Tie" while Dancehall artist Epixode rocked the stage with freestyles while donning an Egyptian costume and face mask. The festival climaxed with performances from Quamina MP,  Wendy Shay, Kuami Eugene, and Tulenkey who thrilled the crowd with their back to back hits and Hiplife artist Fameye closed the show with his song "Nothing I Get".
Festival attendees enjoyed Jack Daniel's Old No. 7 Tennessee Whiskey, Jack Daniel's Tennessee Honey and Jack Daniel's Tennessee Fire cocktails at the bars and complimentary water and cola stations were provided by Verna Water and American Cola.
"Musicians have always had a special place in the community because we are the people's voice and we represent them. Big-ups to Jack Daniel's Ghana for bringing the best artists together and providing a platform for us to celebrate Ghanaian musical heritage and the people," said Ghanaian Dancehall artiste, Epixode.
As part of the Jack Daniel's global commitment to creating a responsible drinking culture, JD Music Fest partnered with ride-hailing app, Yango to provide attendees with a 50% discount promotion for rides at the close of the event.
"The Ghanaian music scene remains one of the most vibrant in Africa.  The JD Music Fest was truly a reflection of our brand motto: "Have it Jack's Way. On the Rocks, with Great Music in Great Company" and we are excited to continue building our relationship with the music community," added Bouclaous.
About Jack Daniel's
Officially registered by the U.S. Government in 1866 and based in Lynchburg, Tennessee. the Jack Daniel Distillery is the oldest registered distillery in the United States. Jack Daniel's is the maker of the world-famous Jack Daniel's Old No. 7 Tennessee Whiskey, Jack Daniel's Tennessee Honey, Jack Daniel's Tennessee Fire, Gentleman Jack Rare Tennessee Whiskey, Jack Daniel's Single Barrel Tennessee Whiskey and Jack Daniel's Sinatra Select.
Jack Daniel's Tennessee Whiskey is made with the finest corn, rye and barley malt and has a distinctive character that is the result of natural fermentation, careful distillation, charcoal mellowing and use of the Distillery's iron-free water from the Cave Spring that runs at a constant 56° F.
Jack Daniels Reminds You To Drink Responsibly.