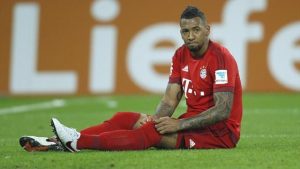 Remember how Jerome Boateng was only supposed to be out six weeks? Yeah, that was too optimistic.
The German international has reached the six week threshold and still hasn't even returned to training and won't for several more weeks.
Carlo Ancelotti addressed Boateng's continued absense during his press conference today, saying: "We're happy, he's very focused. موقع بي بال We hope he'll be back soon. I think he'll be able to return to training at the end of February."
That's 10 weeks and definitely puts his return to game fitness before the second leg of the Champions League Round of 16 into question.
Luckily Bayern Munich still have healthy versions of Javi Martinez and Mats Hummels available so this season isn't going the way of the past three, but it sure would be nice to have the imposing Boateng ready for such a tough fixture. الربح من الالعاب
That said, there are still seven matches before that including a run of five matches in 14 days starting on Saturday against Schalke, so there's plenty of time for this to get worse. الكازينو في السعوديه