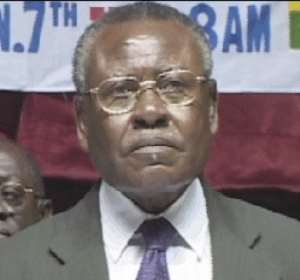 It is quite obvious that had he not even served as a Senior Minister – actually, The Senior Minister – in the government of his brother-in-law, to wit, former President John Agyekum-Kufuor – Mr. Joseph Henry Mensah (1928-2018) would still have been deemed a great and distinguished technocrat. Indeed, as far as I am concerned, neither his quite remarkable services in Parliament as the Representative for his Sunyani-East Constituency or him being elected as both the Parliamentary Majority and Minority Leader, actually enhanced his status and stature in Ghanaian politics and culture in any significant way. He had already achieved a considerable level of distinction even long before he was appointed a Member of the African Advisory Council of the Abidjan, Côte d'Ivoire-based African Development Bank from 1993 to 1997.
Earlier on, in the short-lived government of the Kofi Abrefa Busia-led Progress Party (PP), Mr. Mensah had served as the substantive Minister of Finance and Economic Planning. He had also distinguished himself as either a consultant or an adviser to the post-World War II Dutch government. He would, however, be roundly rebuffed by the regime of the Nkrumah-led Convention People's Party (CPP), on secondment from the United Nations Development Program, I believe. Some critics and observers have even wondered whether Mr. Mensah would not have been awarded the Nobel Prize in Economics, if he had been a white man or a European, rather than a Black African. It is also quite obvious that Mr. Mensah would have immensely contributed to the rapid economic and industrial development of Ghana, but for the unfortunate military intervention of the Ignatius Kutu Acheampong-led junta of the so-called National Redemption Council (NRC), later renamed the Supreme Military Council (SMC-I).
The recognition of his flair for the political economy of Ghana, we learn, began as far back as 1953, when Mr. Mensah was appointed Assistant Inspector of Taxes by operatives of the British colonial regime. He was probably the first Ghanaian to have been appointed to that post or just one of a handful of Ghanaians to have been so employed. Even back then, his expatriate employers had perspicuously recognized the fact that their "native" employee was destined for greater laurels and/or achievements. What is often routinely ignored is the fact that Mr. Mensah was one of the pioneering students to be admitted to the country's flagship academy, the University of Ghana, then the University College of the Gold Coast, from 1948 to 1953. He would proceed for further studies at the John Stuart Mill-founded University of London, and then to the Ivy-Status Stanford University, right here in the United States, where he would earn the Master of Science Degree in Economic Theory and Development (See "Joseph Henry Mensah" Wikipedia).
Between 1954 and 1958, Mr. Mensah, who had earned the Bachelor of Economics Degree from the University of Ghana, Legon, would also be named a Research Fellow in Economics by his alma mater. His tenure as Finance Minister under Prime Minister Kofi Abrefa Busia is known to have been one of checkered turbulence of the sort that is characteristic of transitional governments in the proverbial Third World. Even so, Mr. Mansah came to be highly respected for his professional acumen. For me, personally, though, two things make Mr. Mensah a civic standout among Ghanaian politicians and statesmen of his age and generation, namely, his steely determination and courageous attempt to unseat the bloody Jerry John Rawlings-led junta of the so-called Provisional National Defense Council (PNDC), and his no-nonsense policy position on the Darfur, Sudan, genocide against the indigenous African population of that northeastern African country by the government-sponsored Arab-North Sudanese terrorist organization known as the Janjaweed.
As I vividly recall, in the summer of 1987, or thereabouts, Mr. Mensah was arrested in New Jersey by operatives of the United States' Federal Bureau of Investigations (FBI) for buying munitions in Brazil for the legitimate overthrow of the Rawlings dictatorship. He would be shortly released, perhaps when the operatives of the Reagan Administration came to the delectable realization that they had, in fact, arrested the wrong man, and that Mr. Mensah, like themselves, was strictly and studiously about the godly business of fiercely battling for the salubrious and effective dismantling of military dictatorship not only in Ghana but on the African continent as a whole. In Darfur's veritable case of Genocide, Mr. Mensah had bitterly lamented the fact that virtually every Black-African government had kept a deathly silence, almost as if the untold and wanton atrocities being perpetrated by Sudan's Arab government against indigenous Africans, including rape and decapitation, were taking place in outer space or were, somehow, far removed from the totality of the global African experience of systematic persecution, deprivation and extermination.
For me, it was his courageous confrontation of the immitigable forces of evil on the African continent, in particular, that effectively established the enviable status of Mr. John Henry Mensah as arguably the greatest Ghanaian citizen, politician and statesman of his generation. I will sorely miss him in times requiring that great men and women stand up to be counted among the fearless, bold and brave for the maintenance and restoration of our human rights and civil liberties.
*Visit my blog at: kwameokoampaahoofe.wordpress.com Ghanaffairs