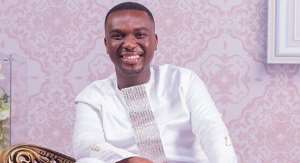 Ghanaian gospel artiste Joseph Oscar Mettle has revealed how sickness landed him at shrines when he was a child.
According to the 'Bo Noo Ni' singer, his parents had to take him to several shrines to cure him of a sickness which nearly took his life when he was very young.
"They took me to the shrines to get a cure for my sickness but I was not cured. They cut portions on my cheeks and put in some herbs. After the first cut on one side of my cheeks, I wasn't healed so the priest had to cut the other side," he said in an interview with Celebrity Ride with Zionfelix.
Joe however stated that he got his healing from the 'Christian God' after the attempts by the traditional priests to cure him proved futile. He said after age 4 he has not been seriously sick again.
He explained that the cuts are the reason for the marks on his cheeks; they are not tribal marks.
Joe Mettle won the Artiste of the Year award over Medikal, Stonebwoy, MzVee, Sarkodie and E.L. in the 2017 Vodafone Ghana Music Awards.
Joe Mettle, a former lead singer of the Soul Winners gospel music group, has since he went solo produced mega hits like 'Akokyem Nyame,' 'Medo Wo,' 'Ayeyi Nnwom,' 'Jehovah Praise,' 'Onwanwani,' and the current hit song 'Bo Noo Ni.'
He's won awards like Best Male Vocalist, Best Song writer, Best Video at 2012 Gospel Industry Awards; Alternative Song of the Year at 2012 Bass Awards; Best Male Artiste at 2016 RIGA Awards in South Africa, Best Vocal Performance at the 2015 Vodafone Ghana Music Awards and has also earned multiple nominations in both local and international award schemes.