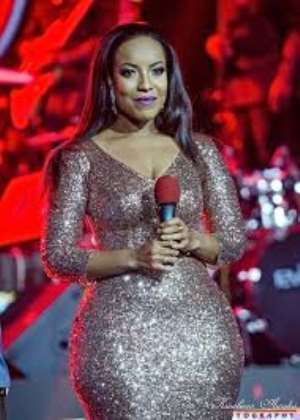 hanaian actress Joselyn Dumas has disclosed she has no regret baring her teeth at the organisers of 3 Music Awards for not paying for her services after hosting the maiden edition of the awards event on March 24, 2018.
She said, venting her anger on Twitter to demand her unpaid money was for a good course to speak out for celebrities who have been taken for granted by several events and individual organizers.
The television and radio personality expressed sadness with regards to how several people have labelled them whores because they claimed most of these female celebrities warm the beds of some businessmen in order to survive.
But, confuting such claims, the multiple award-winning actress stated that they (celebrities) work so hard to take care of their families with their talent which many individuals and organizations have always delayed or refused to acknowledge their crafts.
Dumas also added that several Ghanaian celebrities are making an honest living through their crafts but people especially event organizers seem not pleased with their efforts even when a consensus has been reached in the contract.
"It's not easy out there…Contrary to what people think, a lot of us in the industry are making an honest living and this is how we make our living so if you don't pay, how am I going to live." She told Merqury Quaye on Hitz FM.
According to her, it costs so much to maintain her brand so she feels cheated when she is not paid for services she renders for an organization or an individual.
"You call us 'Ashawobrities' and claim there is no celebrity in Ghana. How do you expect some of us to live and survive if you don't pay us what is owed us and because you feel like the talent is not tangible so you're not going to pay me or someone sitting there will think, why are you giving this girl this amount for just talking? But it's not just talking. Even when you go out, you pay for the dress you wear and might not be able to repeat same dress at other places, the makeup artist, your hair are all paid for and by the time you're done that cheque you're getting, you're spending one-third of it."
She claimed though she has compèred so many events and shows for free, it was based on good rapport with the organizers.
"I even do emceeing for free sometimes but it's all about communication. I've been trying to be civil with this gentleman (Sadiq Abdulai) and I know him and worked with him and he is an amazing person who believes in the arts but at the end of the day, you can't play with my daily bread."
Relating 3 Music Awards organizers inability to fulfil their part of the contract for hosting their maiden awards event held at the Fantasy Dome in Accra, Dumas said, "you have a family, bills and child to look after so what are we supposed to do? We need to respect our creatives and give them what is due."
She further stated that event organizers failure to pay what is due an artist or actor is the reason why the creative arts industry keep retrogressing.
"This is what we know and do for a living. This is why our industry is actually suffering because nobody is paying for anything. Everybody is taking everyone for granted in the industry. When you hire a talent pay the person because my talent is what I'm offering to the table and your payment is what you're bringing to the table… I've been able to fulfill my bargain, fulfill yours too." Dumas added.
Background 
Actress Joselyn Dumas shared her frustration on Twitter on Wednesday, July 4, 2018 about not getting paid four months after she hosted 3 Music Awards.
She lashed out at the Ghanaian entertainment industry stakeholders for not supporting personalities to grow.
Dear @3musicAwards when you hire the service of a talent and you agree on a payment, you honor your end of the bargain as I honored mine…. no one works for free"
Sadiq Abdulai Abu, founder of 3 Music Awards has responsed to claims by Joselyn Dumas that she is yet to be paid for hosting the awards show early this year.
Abu denied claims that he had blocked Dumas on Twitter to prevent her from getting access to him.
"I was not in town, I was doing some work outside the country so on Monday one of my guys called me and asked me to reach out to Joselyn or one of the guys who is part of her management, because there is a perception that I have blocked her on Twitter, but that wasn't the case. I was just not in town. So I called him and pleaded with him to give me some time since I just returned to the country and I just resumed work so I'd pay them." stated Abu on Zylofon FM.
He added that lot of debts was incurred, and he is working together with his team to ensure that everyone is paid.
He also pleaded for not completing his side of the agreement with Dumas and promised to pay her back very soon. She is owned some 10, 000 Cedis for the hosting gig.