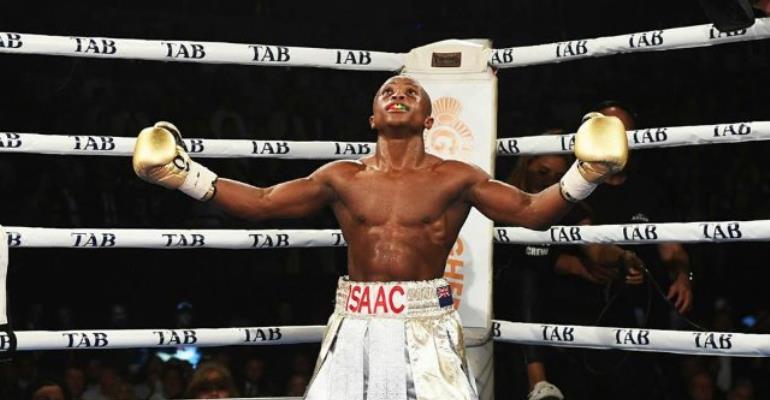 Ghanaian boxer, Joshua Clottey, believes Emmanuel Tagoe will be killed if he should fight Isaac Dogboe at super featherweight (130 pounds).
According to the former world champion, Tagoe who is currently the IBO Lightweight champion would have to lose about 5 pounds weight before he can fight Isaac Dogboe who is currently the interim WBO Interim Super Bantamweight champion but will negatively affect him in the ring if he is to lose weight.
Speaking to Ghanacrusader.com, the Ghanaian boxer insisted that it will be dangerous for Tagoe to do that and if he doesn't take care Dogboe will kill him in the ring.
"Dogboe's camp are making sense by saying if Tagoe wants to fight they will fight him at super featherweight, how can Tagoe make super featherweight?
"I kept on saying this doesn't make sense, Tagoe can never make super featherweight, hell no, he will die in the ring. Dogboe will kill him. If Tagoe makes super featherweight he can't even stand to fight, he will not get enough energy."
Clottey in advising Tagoe's camp said, "Do you know how Manny Pacquaio got to where he is?, Pacquaio was doing good and Oscar De La Hoya felt the way he is very tall and Pacquaio is shorter he can beat him and he said he wants to fight Pacquaio and Pacquaio said he will fight him at welterweight. Oscar was really beaten up, he couldn't do anything in the ring, the energy wasn't there because he lost a lot of weight. When you lose a lot of weight it means you will lose a lot of power before you go into the ring.
"Tagoe can't make the super featherweight, hell no, they have to be smart."
The camp of both boxers have agreed on the bout and it will be staged in July later this year.