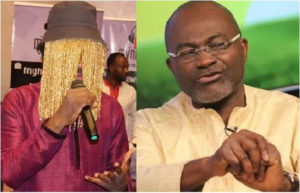 Member of Parliament (MP) Assin Central, Kennedy Ohene Agyapong has petitioned Qatari ruling family, seeking clarification of its link with ace investigative journalist, Anas Aremeyaw Anas.
The move by the MP comes at the back of his belief that the investigative journalist impersonated the family in his investigative piece #No. 12 that sought to reveal corruption at the Ghana Football Association (GFA).
Parts of the video came with a voice-over commentaries suggesting the Former GFA boss Kwesi Nyantakyi received $65,000 from a person claiming to be a member of the Qatari Royal Family.
"We have petitioned Sheikh Al Thani in Dubai for them to tell us the kind of links they have with Anas, to me impersonated them…," he said.
The Former FA Boss has since denied the allegation and has sued Anas Aremeyaw Anas and Tiger Eye PI for defamation.
About the Al Thani family
The Al-Thani family, a member of the Tamimi tribe, is the ruling family of Qatar.
The ruling family of Qatar, Al Thani, has been ruling the Arab Peninsula since before its independence from the British in 1971.
Unlike other Arab rulers, the family is neither a descendant of the Prophet Muhammad nor of long-standing tenure in their kingdom; rather, their rise to power was the result of British and Ottoman imperial politics. As their rise parallels the creation of an independent Qatar, the two entities are inextricably linked.
Number 12: Kofi Manu took bribe to fastrack signing off a player as free agent
Today, members of the al-Thani family dominate key government ministries and receive a significant share of state revenue.
According to Kennedy Agyapong, a response from the Al Thani family will be paramount to determine if the supposed Sheikh in the #No. 12 documentary is indeed a member of the Qatar ruling family.
The Law Maker has been 'fighting' the investigative journalist since the premiering of his documentary #12 which sought to unearth corruption at the Ghana Football Association (GFA).
Ken has since the premiering of the documentary sought to unmask the man who is revered for his documentaries that bring to light, hidden secrets.
BBC releases 5 minute teaser on Anas exposé of Number 12
The MP who believes Anas has been trapping people said he will go every length to unmask him.
He has also dragged the undercover journalist to the Ghana legal Council, claiming that Anas misconducted himself professionally as a lawyer in a manner that bordered on "moral turpitude.