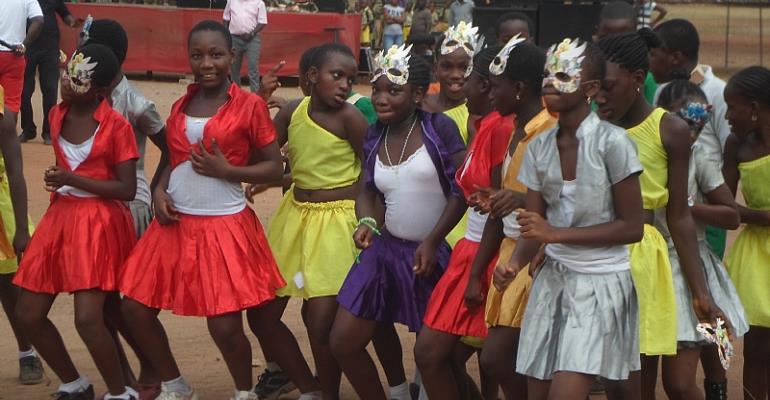 This year marks the 25th anniversary of the National Theatre of Ghana. There has been a lineup of awesome events all year long and this December, a special version of one of its flagship programmes, "KIDDAFEST", climaxes the celebrations.
KIDDAFEST 2018 is going to be a three (3) day festival for children and performed by children. With the theme "Sustaining our cultural values", this year's festival will give children the opportunity to delve into selected Ghanaian cultures, research and develop an artistic performance or work that touches on cultural values that bonds us and promotes African personality. Each performing school will be allowed to select one of the ten (10) regions in Ghana, delve into their cultural heritage and use their findings to present a performance.
The list of programmes lined up for the festival will touch on all African arts and culture forms namely crafts, dance, theatre, drama, music, brass band competition, poetry, visual arts, painting and props and costume design. There will also be other side attraction events like bouncy castles, food stalls, face painting, art markets and many more.
KIDDAFEST 2018 has been one of National Theatre's main events for children and has been running annually for more than two decades. It has been a platform that has birthed many national figures in the entertainment industry, indicating National Theatre's commitment to unearthing new talents, nurturing them and positioning them as the next generation of creative thinkers and artists.
Speaking to Scribe News, Mr. Alfred Danso said, "Our objective is to re–emphasize the importance of the creative arts to the tourism industry and the economy as a whole." The Marketing Manager of National Theatre continued, "We also seek to encourage and educate the Ghanaian child on the importance of the arts and its benefits if they choose to have a career in the sector."
Slated for the National Theatre of Ghana from Thursday, 13th December to Saturday, 15th December, 2018, the arts and culture festival will span from 10am to 5pm each day.
KIDDAFEST 2018 will usher children, parents, guardians, teachers, head teachers, principals, school proprietors etc. into their yuletide season. It will be a whole new level of great performances. Don't miss out this December!