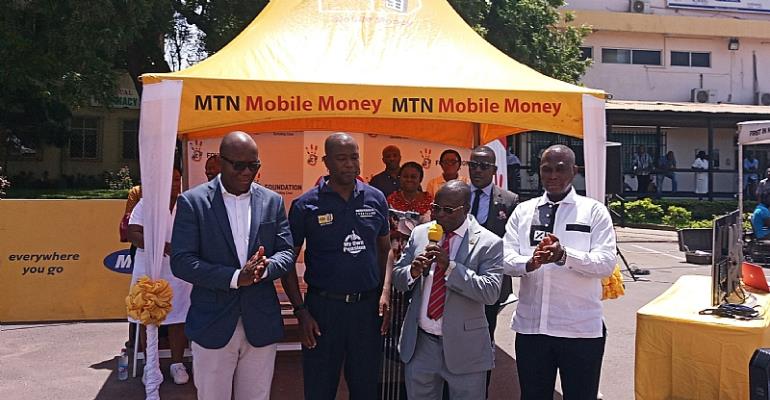 The MTN Ghana Foundation in collaboration with 3 Foundation has launched "Think Heart, Save a Child" project to provide financial support to children with hole in heart conditions at the Korle-Bu Teaching Hospital in Accra and Komfo Anokye Teaching Hospital in Kumasi.
Under the project, MTN Ghana Foundation will provide GH₵200,000 a year which will cover the surgeries, admissions and medication for children with hole in heart in conditions.
The amount shall be disbursed quarterly with an amount of GH50,000 devoted to two children each quarter. The project will be reviewed after each year to ensure that impact is achieved.
Delivering the keynote address, the Deputy Minister of Health, Kingsley Aboagye Gyedu said financial access to quality health care is a big challenge to low income earners all over the world.
According to him, more than 7000 children are born annually with hole in heart conditions in Ghana. Many of these children, whose parents are unable to afford the cost of heart surgeries are left to die.
He added that private sector support to healthcare especially to improve access to the poor and needy in society is a remarkable approach which boosts government's vision of creating Health Tourism policy.
The sector minister indicated that government is committed to revolutionizing healthcare in the country to ensure quality healthcare delivery to Ghanaians.
Kingsley Aboagye Gyedu posited that government is leading to promote better healthcare delivery to all however, healthcare delivery is a collective effort that we must all own.
The Acting Corporate Services Executive of MTN, Mr Samuel Koranteng said in view of the obvious difficulties in meeting the numerous requests from families and health institutions to financially support children with hole in heart conditions decided to create the " Think Heart, Save a Child" project.
He added that patients will be chosen based on a criteria that has been designed by a joint team from MTN, 3 Foundation and the National Cardiothoracic Center to ensure fairness in the selection process.
Mr Koranteng indicated that the Foundation has over the years supported the construction of a theatre and an Intensive Care Unit to facilitate efficient child healthcare delivery for the Princess Marie Louis Children's hospital in Accra, constructed a Neonatal Center for the Tamale Teaching Hospital, provided Children's Ward for Twifo Praso hospital and also a Maternity Ward for Ejisu Government hospital.
"We hope that through this intervention, more children with hole in heart conditions will receive the needed medical attention and this support will bring smiles to children and their families and also make their lives a lot brighter," he intimated.