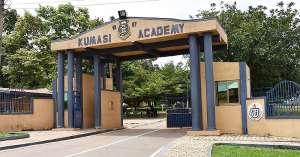 The Ghana Health Service is expected to vaccinate all students of the Kumasi Academy (KUMACA) in the Ashanti region following the death of three of their colleagues in a suspected case of meningitis.
The three included two first-year students and one final year student.
The students died after they were rushed to the Kwame Nkrumah University of Science and Technology Hospital on Friday, December 1, for emergency treatment.
The latest deaths at the school has caused fear and panic among parents, some of whom have threatened to withdraw their wards from the school.
Director of Public Health at the Ghana Health Service, Dr. Badu Sarkodie told Starr News that they are awaiting autopsy reports to establish the real cause of the deaths.
Dr. Sarkodie added that measures are being put in place to vaccinate all students to prevent any further death.
He added that the Ghana Health Service is also liaising with school authorities to decongest the school to prevent any further infection.
This is the second time students of Kumaca have died from suspected meningitis after three died under similar circumstances in April this year.
Authorities of the school on Monday barred journalists from accessing the school on the back of the incident which they say is denigrating the reputation of the school.