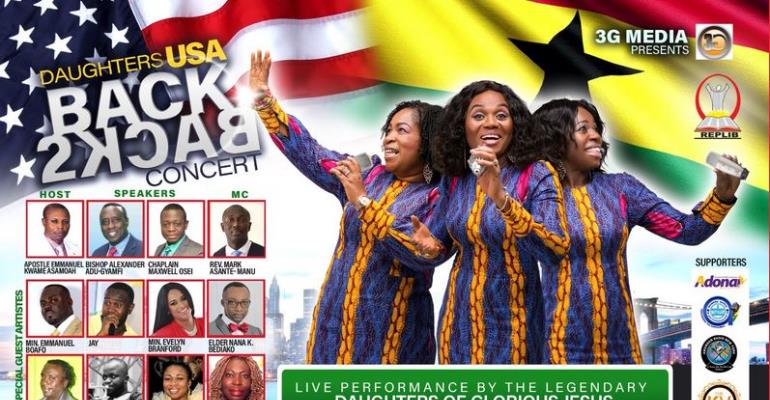 The legendary Female Gospel Music Trio; Daughters of Glories Jesus has become a hot commodity by popular demand. Their US tour started when they performed in Chicago at the Ghanafest's Thanksgiving Service to start their Back2Back Tour.
By, Popular Demand; A series of performances and special appearances have been
scheduled and this upcoming weekend, they are making 7 appearances in New Jersey and New York. That is History in the making and a hectic schedule for the longest and successful Ghana Gospel Music female trio of all time.
Their hectic Schedule this upcoming Weekend is as follows and encouraging all their fans to join them;
Aug. 3rd, Friday, All Night, Praise and Worship AllnNight, Special Appearance at Harvest Prayer Group, Edison, NJ, Service Hosted by Mama Rosemond, 50 Calvert East, Edison, NJ 08820. Starting 9pm-2am
Aug. 4th Saturday, Ghana Parade N.Y. Day, Meet and Greet Fans 3pm @
Crotona Park.
7pm – Gospelfest Full Show/Back 2 Back Concert Series NY @ Resurrection Power and Living Bread Ministries Int'l. 4132 Park Avenue, Bronx NY, REBLIB, Bronx, NY. 7 pm-11pm, Host is; Apostle Emmanuel Kwame Asamoah. Daughters of Glorious Jesus are members of REPLIB.
Supporting Artistes; Naana Buatsin, Emmanuel Boafo, Nana Bediako, Ewuraba Nyamekye, Francis Akrofi, Evelyn Brandford, Jay, Speakers; Bishop Alexander Adu Gyamfi of BBT, Rev. Mrs Lillian Osei Owusu, MC, Pastor Mark Asante Manu.
Aug. 5th, Sunday, Special Appearance @ Upper Room Assembly of God, 10.00am, Host; Pastor Mark Asante Manu, 1074 Franklin Ave, Bronx, NY
12.30 pm – Special Appearance – Presby Church of Ghana, Orange, NJ Courtesy of Kwame Gyan.
6:30:pm – Ghana Wesley Methodist Church, – Richmond St, Brooklyn NY, Hosted by Jerry Adinkra
8pm-Onwards – Meet & Greet with Fans @ B Place, Restaurant, 2016 Nostrand Ave, Brooklyn. A surprised Guest also will be in the mix; a world-renowned Ghanaian Gospel Music Giant.
Their Back2Back Tour will hit some parts of the USA till September. It is powered and promoted by 3G Media. You can contact Mr. CNN for more information on the tour, 646 833 6194.
The tour is backed by many great personalities who are 3G Media Production and Management Team Headed by Mr. Charles N. Ntiamoah-Mensah (Mr. CNN)