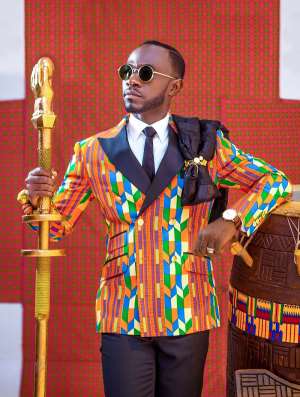 Okyeame Kwame
Celebrated Ghanaian musician, Okyeame Kwame, has acknowledged the positive impact his 'Made in Ghana' project has made on the Ghanaian society so far.
Kwame, who was speaking on Joy Prime's 'Showbiz Now' on Friday said so far the campaign has been able to encourage people to take pride in living the life of a Ghanaian.
"I remember that about two years ago, it would be difficult to find 'apapransa' or 'ɛtɔ' on Instagram. Today, if you post 'bɔdeɛ ampesie' or 'ɛtɔ' on Instagram you are likely to get more traction than you would have gotten two years ago," he told Ibrahim Ben Bako in the interview.
He intimated that through the project, most people have earned their sense of 'Ghanaian-ness', adding that most people would now want to marry in traditional apparel unlike previously.
Okyeame Kwame is bent on encouraging and educating Ghanaians to patronise Made in Ghana products.
As part of his project, he has released an album titled 'Made in Ghana', which seeks to mirror the culture of people living in the various parts of the country.
He also uses his social media handles to educate people on the culture of Ghana and its tourism significance.
As the Made in Ghana Ambassador, he has dedicated himself to making sure this object is fully realised.
He has also teamed up with Darling Hair to produce Sante's Hair product.
The 'Made in Ghana' album is available for sale on Aftown and other online music stores.