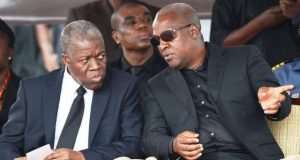 Former President John Dramani Mahama has described as shocking the death of his former Vice President, Paa Kwesi Amissah Arthur.
The former Vice President passed on in the early hours of today, Friday, June 29, 2018, after he reportedly collapsed at the gym.
Mr. Mahama, who appeared very devastated by the news, took to Twitter on Friday, to make a very brief comment about the man with whom he governed the country from 2012 to 2016.
President Nana Akufo-Addo also on Facebook eulogized Amissah Arthur and described his death as "unfortunate" saying Ghana has lost a fine gentleman.
Shocking!
No! PK was only last Saturday actively involved in our party's constituency elections in the Central Region.
Very sad Friday! @OfficialNDCGh
"He has been a longstanding public servant, who discharged his duties with dignity. The news of his death is unfortunate since he appeared to have a lot to contribute to the public life of our country," he wrote.
Reports indicate that the former Veep collapsed at the Airforce Gym on Friday morning during a workout session.
He was later rushed to the 37 Military Hospital where he died.
Social media is awash with dozens of tributes to the departed former Vice President.
Just this past Wednesday, his wife launched her book detailing her work as Second Lady, and Mr. Amissah Arthur attended that event.
Before becoming Veep in August 2012, he was Governor of the Bank of Ghana from 2009 to 2012.
From 1983 to 1986, Amissah-Arthur served as a special assistant to the Secretary of Finance and Economic Planning, Kwesi Botchwey under the Provisional National Defense Council (PNDC) government.
He also served as the Deputy Secretary for Finance in the PNDC government from February 1986 to March 1993.
From April 1993, he continued as the Deputy Minister for Finance in the under the Fourth Republic's first government until March 1997.
Mr. Amissah-Arthur, 67, was appointed as Governor of the Bank of Ghana in October 2009 by then-President John Atta Mills.
He held that position until August 6, 2012, when he became Vice-President of Ghana following the death of Atta Mills.
He was survived by a wife and two children