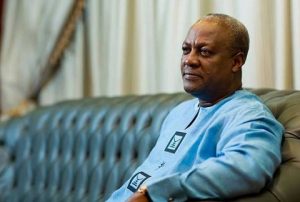 A decision by the immediate past President of the Republic, John Dramani Mahama, to vacate his official residence during his tenure as Vice President has left the newly sworn-in Vice President, Dr. Mahamudu Bawumia without a place of abode even as he begins work.
John Mahama, in a letter signed by former Chief of Staff Julius Debrah, requested ownership of the building that has served as the official residence of the country's Vice Presidents since 2000. Mr. Mahama in the said letter makes a request for the building located at Cantoments in Accra.
It reads, "Reference our (Osafo-Marfo/Debrah) discussion of 19th December 2016 on the above stated matter, we wish to indicate that H.E President John Dramani Mahama would like to have Bungalow No. 3, Prestige Link, Cantoments, Accra and its adjoining facilities as his official retirement home."
The COCOBOD facility served as residence for the late Alhaji Aliu Mahama as well as former President Mahama during his tenure as Veep in 2008. He has however remained in the facility since then, refusing to part with it even during his time as President, and now, former President.
The situation, we are told, has left the country's newly sworn in Vice President Dr. Mahamudu Bawumia stranded, as officials desperately look for possible options for the second gentleman of the land.
Information available suggests the building in question used to be a COCOBOD guest house until its conversion into the official residence of the country's Vice Presidents. But, it appears the building may no longer serve that purpose following the decision by former President Mahama to covet it.
The immediate past President is also said to have requested that another facility at Ridge be handed over to him to be used as an office. Portions of the letter cited earlier adds that the former president also 'wishes to have Bungalow No.6, 3rd Avenue, Ridge, Accra as his office.'
It's unclear what the reasoning behind such a move is but until some intervention of sort is made, the execution of the change agenda being sought by Ghanaians the world over will only be partially met as the former President continues to occupy the sitting Vice President's apartment.