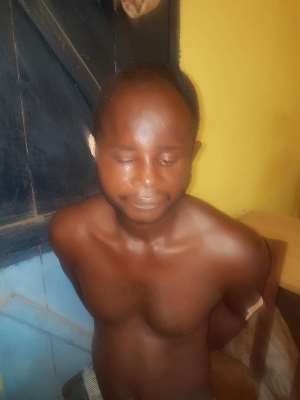 The people of Manso Edubiaso in the Amansie West district of Ashanti region were thrown into a melancholic mood on Wednesday when the body of a young woman, together with her four year old son was found in an abandoned pit.
A group of young men who were contracted to enter the deep pit, which has been abandoned by illegal miners several months to bring out the corpses came out unable to breath well due to the decomposing nature.
The group went there in the company of DCE of the area Hon William Asante Bediako, a combined team of policemen from the Ashanti regional headquarters and their colleagues in the Amansie West District, assembly members and the suspected murderer.
Kwame Tuffuor, also known as Kwame Brodo is suspected to have killed the young woman who is very popular in the town due to her mental retarded state.
The 42 year old admitted during interrogation by the police that he was having an amorous affair with the lady and got her pregnant.
In order to forestall the shame he would encounter when the news breaks out and also to prevent the news from reaching his wife, he decided to kill the young woman and dump her in the abyss.
When the two bodies were brought out, it was realized that the lady was naked, raising suspicions that he must have had sex with her even in her dead state before dumping her into the pit, tied strongly to her only son.
But for the strong resilience of the police, the youth of the area would have lynched him immediately as they could not come to bare with the wickedness perpetrated by Kwame Brodo.
For now, he is in police custody being prepared for court.
Presiding Member for the area, Hon Akuoko Kwarteng could not control his tears calling on the police to ensure that he is duly dealt with by the law.
"This is such an inhuman act, if I had the power, I would sign his death warrant immediately". He told this reporter angrily.