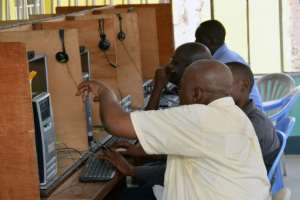 The Democratic Republic of Congo (DRC) is clamping down on online media in a declared campaign against fake news, hate speech and cyber-crime, a move that has stoked alarm as crucial elections loom.
Watchdogs say the crackdown breaches media freedom and stifles political debate, adding to volatility in what is already a powder-keg country.
On June 14, the ministry of communications issued a decree giving online media outlets a month to comply with new regulations, or else face potential fines and prison sentences.
"The law is intended to protect the public," Communications Minister Lambert Mende said in an interview with AFP.
"It's not just fake news — there's also incitement to violence, hate-speech, and in our country, we know where that can lead."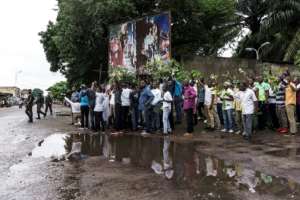 President Joseph Kabila, who under the constitution should have stepped down at the end of 2016, is still in office ahead of elections due in December, sparking street protests that have been heavily repressed. By John WESSELS (AFP/File)
The rules include registering with the authorities, complying with a 1996 law on freedom of the press and having ads approved by relevant authorities.
The punishments are the same as those detailed in the 1996 law, which include a fine and a 15-day prison term that can be longer if the crime warrants a higher sentence.
Watchdogs for media freedom and human rights say they are worried.
"If the decree is applied in its current form, it will muzzle online media and restrain freedom of expression," said Tshivis Tshivuadi, head of an advocacy group called Journalists in Danger.
"There are real concerns that these new requirements will soon be used as an excuse to crack down on Congo's vibrant online media outlets," said Ida Sawyer of Human Rights Watch.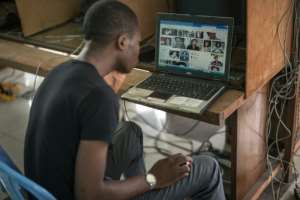 Rights groups and media watchdogs are concerned the new rules governing online media will censor political criticism. By FEDERICO SCOPPA (AFP)
Amnesty International warned about text prohibiting "any illustration, story, information or insertion infringing the right to the image and the right to privacy" — a provision that, it said, has been used in the past to censor political criticism.
Unstable
Sprawling, mineral-rich and dirt-poor, the DRC has been gripped by wars and instability ever since it gained independence from Belgium in 1960.
It is careering towards presidential elections on December 23 in a fog of uncertainty. President Joseph Kabila, who under the constitution should have stepped down at the end of 2016, has stayed in office, sparking street protests that have been heavily repressed.
In 2016 and in 2017, the authorities cut internet access ahead of anti-government demonstrations, depriving the public of access to online news and social media.
Independent news websites have become popular in the DRC, where the traditional press is mostly owned by politicians.
The top three news websites, out of 20 in the country, say they reach 1.7 million, 2.7 million and three million single visitors a month — an achievement for a young industry in a country where only a minority of the estimated 80 million people have regular internet access.
Online media outlets are defined broadly in the decree as "all services of online public communication" by a "moral or physical person with editorial control" producing "original content of public interest, updated regularly, made of information with a link to the news".
But, says Amnesty International, such vagueness is dangerous — it could open the door to "abusive interpretations" by police and the courts.
"We currently have to declare websites with relevant authorities but registering 'beforehand' with the ministry doesn't make sense," said Patient Ligodi, editor of a news website and president of MILDRC, the country's first online media non-profit.
"This means they will have the possibility to authorize or deny websites from existing."
The international press freedom group Reporters Without Borders (RSF) questioned the timing of the decree in the runup to the presidential ballot, asking why online media regulation could not wait until after the election.
Kasonga Tshilunde, the president of the Congolese National Press Union (UNPC), noted that parliament is currently examining an overhaul of the 1996 law.
"We were surprised that the ministry issued this (decree) before the voting on a new law," he said. "It made us wonder: Is there a reason for rushing?"
'Protect the public'
Mende said online outlets should abide by the same legal framework as print and broadcast media.
"If they want to continue violating the law, the rules that regulate the industry, this is something that I oppose, although we can talk about a moratorium if needed."
After a meeting at Facebook headquarters in San Franciso, Mende last month also called for "legislation and regulation" of social media to "protect the public."
"They (Facebook) control this instrument that can be used to commit crimes, and so we have agreed on a certain number of rules and collaborations,' Mende told AFP after his trip.
Human Rights Watch said the notion of "protection" could be used as another means of repression.
"Far from 'protecting the public,' any new regulations for social media access could be used by the government to attempt to monitor and control the spread of information and target government critics," said Sawyer.
Istr/ri/ach/klm/rma