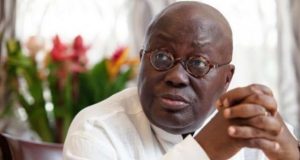 A three-time contender for Ghana's Presidential seat, Nana Akufo-Addo has been named the President-elect of the country after a historic poll in the country.
Akufo-Addo polled 5,716,026 of votes representing 53.85 percent against his fiercest rival and incumbent President, John Dramani Mahama's 4,731,277 votes.
The son of a former President of Ghana (ceremonial 1969 – 1972), he was born in Accra some seventy-two years ago in Nima, a surburb of Accra.
He started his education at the the Government Boys School, Adabraka – Accra, and later at the Rowe Road School, now known as Kinbu Secondary Technical School also in Accra.
He proceeded to England for his O and A level education before returning to Ghana in 1962.
He served as a teacher at Accra Academy Secondary School for about a year before proceeding to the University of Ghana, Legon to read Economics in 1964.
Nana Akufo-Addo proceeded to study law in the United Kingdom and was subsequently called to the English and Ghanaian Bar in 1971 and 1975 respectively.
Before then, he had relocated to France where he practiced law for about five years.
In 1975, he returned to Ghana to pursue his legal career with a private firm before co-founding a law firm; Akufo-Addo, Prempeh & Co.
He is named in Ghana's history as championing the cause of human rights, rule of law and justice in the country in the 1980s.
Akufo Addo entered mainstream politics serving as the General Secretary of the People's Movement for Freedom and Justice (PMFJ) that sought to champion the freedom and rights of Ghanaians.
He is credited with working to restore multiparty democratic rule in Ghana in 1979 through a campaign against a referendum for a one-party military-led State.
In 1991, he was the chairman of the Organising Committee of the Danquah-Busia Memorial Club; dedicated to the preservation of the memory and ideals of the two great advocates of Ghanaian democracy, J. B. Danquah and K.A. Busia, Prime Minister of the Progress Party government of the 2nd Republic of Ghana.
The clubs, established across the country subsequently became the branches for the now New Patriotic Party.
In 1992 when Ghana held its first democratic elections, he was named the first national organiser of the NPP and, later that year, campaign manager of the party's first presidential candidate, Prof. Albert Adu Boahen.
His interest in establishing further promoting his views on demoracy in Ghana saw him establish and fund The Statesman newspaper.
From 1996 to 2008, he served as the Member of Parliament for the Abuakwa South Constituency of the Eastern Region and later served as an Attorney General and Minister of Justice between 2001 and 2007 under the erstwhile John Kufour Presidency.
Under the Kufour-administration, he also served as a Foreign Minister.
–
By: Jonas Nyabor/citifmonline.com/Ghana