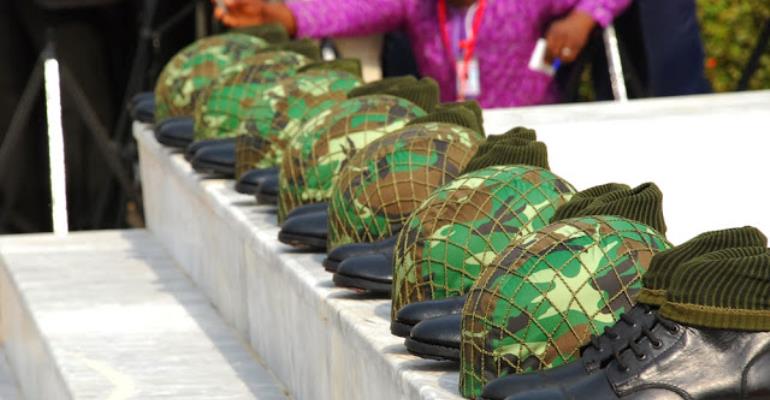 The Ghana Armed Forces (GAF) has stated that three people, who died in an accident near Adaklu in the Volta Region, are not soldiers.
According to the Defence Intelligence of GAF, the deceased were all civilian employees of the military.
They were attached to the Supreme Canons Band of the 66 Artillery Regiment, Volta Barracks in Ho.
They died when the Styre Troops Carrier Military truck with registration number 72- GA- 70 on which they were travelling veered off the road and fell into a ditch.
The accident, which occurred close to Spring Fields University campus on the Ho-Kpetoe Road, involved 15 members of the band, who were travelling to Akatsi Abor for an Easter programme.
W.O. Lango of the Defence Intelligence Unit at the Southern Command, in an interview with DAILY GUIDE to clarify the issues, said the civilian employees were in military uniform because in some cases the military permits some civilian employees to do so for 'morale' reasons.
The Regional Commander of the Motor Traffic and Transport Department (MTTD) of the Ghana Police Service, Chief Superintendent Victor Oduro Abrokwa, confirmed to DAILY GUIDE that all the occupants of the truck, including the driver, sustained various degrees of injury and were rushed to the Volta Regional Hospital, where three of them died on arrival.
He said seven others, who are in critical condition, were airlifted to the 37 Military Hospital for further treatment a day after the accident.
"The remaining five, including the driver, were treated and discharged at the Volta Regional Hospital."
Chief Superintendent Victor Oduro Abrokwa said plans were being made to convey the bodies of the deceased to the 37 Military Hospital for preservation and post-mortem.
He added that the police would revisit the scene with the driver when he fully recovers to assist in investigation.
According to media reports, Commander of the Regiment, Major Edward Sarpong Appiah, addressed a durbar on Monday at the barracks and briefed personnel about the accident.
A Daily Guide Report