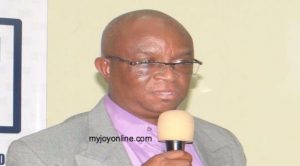 The Volta regional minister-designate, Archibald Letsa, has promised to work with the Regional House of Chiefs to bring development to the region.
According to him, one of his main objectives, when he gets Parliament's approval for the ministerial role, will be to make sure that chiefs across the region are partnered and encouraged to involve their subjects for the development of the region.
Dr. Letsa disclosed this in an interview with Joy News Tuesday afternoon.
He said his focus on chiefs in the region to drive the development agenda is informed by the crucial roles they play in national development.
"My strategy is to have a strong partnership with all the chiefs in the Volta Region, these chiefs will be able to mobilise the people in their respective communities, give advice on issues and also make sure that things are done properly," he said.
He said the partnership will enable him to know the problems facing residents in every community.
Answering questions on President Nana Akufo-Addo's promise to build a dam in every village, he said that promise will be fulfilled – countering assertion by critics that the policy is not feasible.
The one-village-one-dam project, he underscored, will help farmers in the northern part of the Volta Region and other farming communities to farm all year round to increase productivity.
This he believes will reduce poverty and youth unemployment.
"The one-village-one-dam and one-constituency-one-million-dollar simply mean that there is going to be an increase in productivity and poverty will reduce, people will get jobs and that is money in your pocket, " he said.
Dr. Achibald Letsa has, however, called on chiefs and well-meaning residents in the Volta Region to come on board and help bring development to the region.