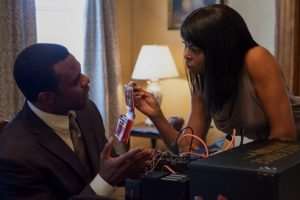 Twitter trends can be very interesting – whether on government's policies, or the radar captures events, personalities and breaking issues.
After Martin Amidu was named as the new Special Prosecutor by President Nana Akufo-Addo, he was trending within 90 to 150 seconds after the live announcement. That is how interesting Ghanaian Twitter trends can be.
Other times, the trends are more random – like a movie that was released three months ago but suddenly becomes a hot topic now. That is exactly what happened with the movie, 'Acrimony.'
At the mention of word 'acrimony' what quickly springs to mind is bitterness, rancour, resentment, animosity or grudge.
The movie produced by American rapper and film maker Tyler Perry was released in March, 2018.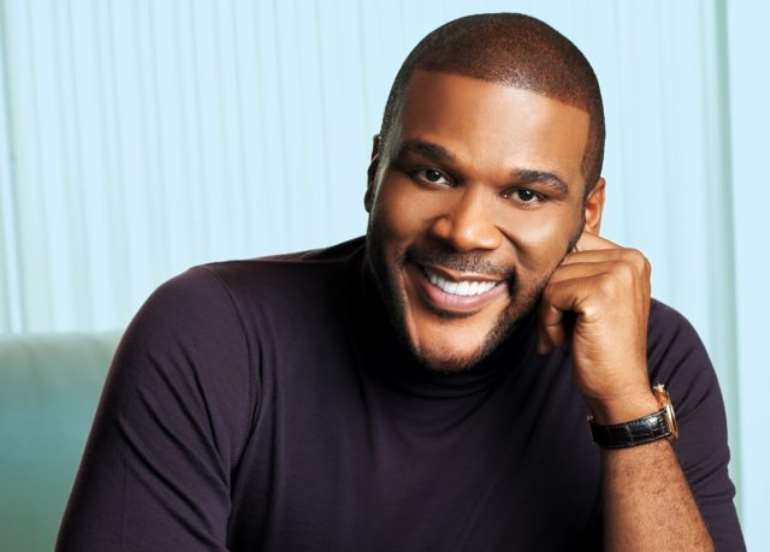 Tyler Perry
When I saw a trailer of a movie in February starring Taraji P Henson, with the tag line: "Hell Hath no fury than a woman Scorned", I was excited to see what kind of movie it would be.
However, it would take me five months and it was randomly trending on Twitter so I actually had watch it. For some reason it began trending on Ghanaian and even Nigerian twitter, in the 1st week of July, 2018.
Social media stays undefeated and it was as if Twitter decided to watch the same movie, at the same time. How it began trending I have no idea but I was finally motivated to watch a movie I had basically forgotten about, because all these spoilers were suddenly on Twitter. So I knew I had to watch this movie for myself and understand what all the fuss was about.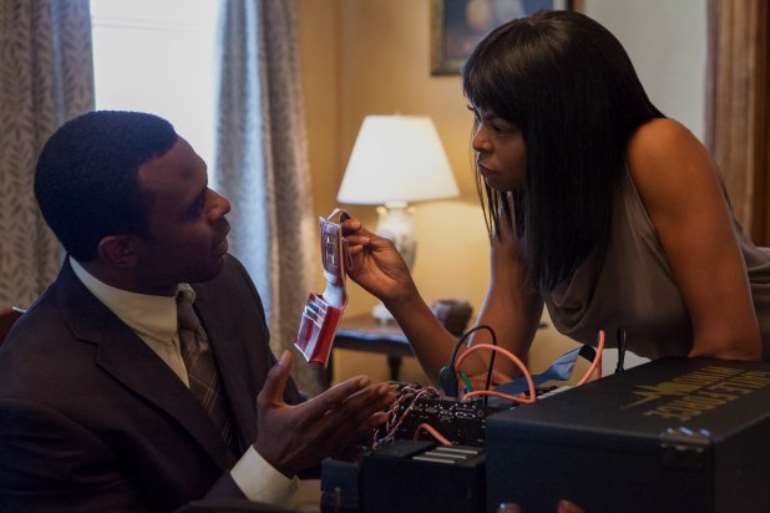 For the first 20 minutes of 'Acrimony' I was ANGRY! I was angry at Melinda (the wife) in the movie for allowing herself to be taken advantage of. I mean who tells a man she has just met that she is worth $350,000 from a life policy and owns a house in the nice part of the city as well? Who is so daft to not see through that plans for the "future" were being formed thanks to that nice information? All of a sudden children are being named, future is being planned?
I understand that youth and love can contribute to being starry eyed and in my opinion this is quite daft.
This is not a male or a female thing – this is a 'Human Feature' thing. Show me a man or a woman that will not happily think of being with you forever when they:
Were In love with you (and yes I don't doubt that Robert was in Love with Melinda) Or
Is broke and living "hand to mouth" and know that your worth $350,000 and will not think that its jackpot for me? eg. in 'Acrimony,' she can finance my battery and my research.
Robert (her husband) saw her as one he could love and also could finance his dreams and make him a multimillionaire as he hoped for himself. So he sold her a dream. A grand dream that he would be an inventor who will make millions and would treat her as his queen, make her happy, buy a yatch, a private jet, a diamond ring set in three diamonds each of which had symbolic meaning. He created a dream and made her believe in it and she spent the next 18 years working to ensure he made that dream come true.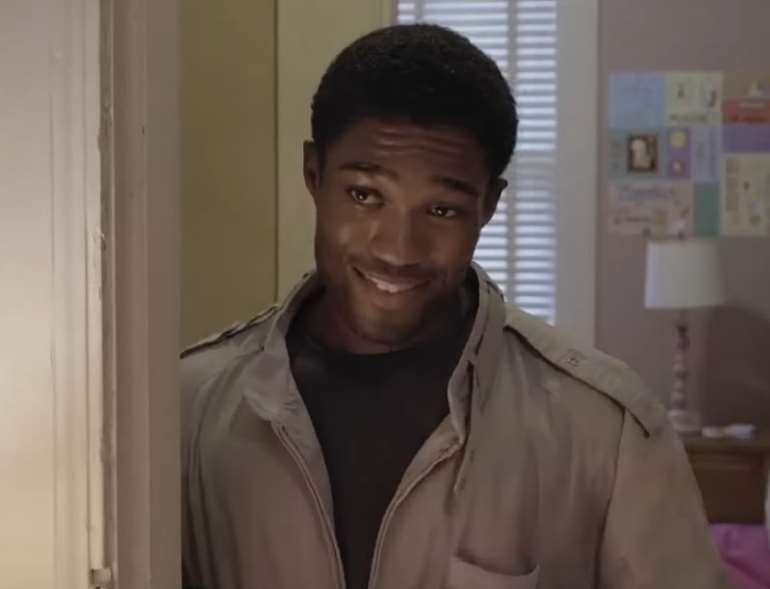 So she happily spends her inheritance left for him, funding him and his dream. She begins by paying for dates, buying him a car, then after her going all out for him like this, he begun to cheat on her and in a fit of rage of this discovery, she tries to kill him and the side chick, hurting herself in the process and leading to an emergency hysterectomy because of internal bleeding and her losing her chance of ever carry her own children.
Did she cause her own injury? Yes! But was she entirely to blame? Absolutely Not! I would fly into a fit of rage myself, had I been used and then been cheated on as well.
In her early 20's unable to have a child, it's almost logical that she will gravitate back to him. Because at that point she was hopelessly in love with him and had invested her money, time and now lost her uterus in pursuit of this relationship. She has invested too much to walk away from it, so like so many women who invest too much in a relationship to quit, she stayed and tried to work it out even though the warning signs were glaring at her from the onset.
Now when the money is spent entirely on him trying to make his invention work without success, he still needs more and makes her invest her family home, to spend on him, and when that isn't enough, she has to work, two jobs to help fund his work. And when he finally graduates, and she thinks the burden will be shared, he can't get a Job. Why? Because of a felony conviction he never told her about (2 years in Jail at age 15!).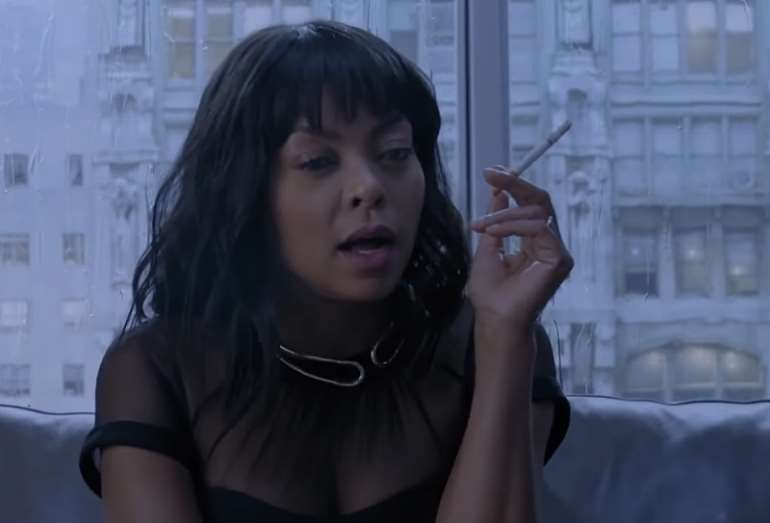 At this point had the situation be reversed, (eg: a woman hiding such a secret from her man, I daresay he would have left), but again she accepts her fate, all for Love. She now has to permanently fund the household, (mortgage and utilities, food, petrol etc.) and then fund him and his research as well as herself for 18 years!
Ladies and Gentlemen, 18 GOOD YEARS, she worked as a secretary during the day and a cleaner at night to take care of her home, her husband, his research and invention.
Eighteen (18) years of early mornings, late nights, headaches, back aches, tears, sweat, stress, anxiety, depriving herself for her husband's benefit, tired bones, weary hands, and 18 years of cleaning after people of running errands while he slept and ate. Eighteen years of her sacrificing everything. Eighteen years of giving her all, of losing herself in the pursuit of his happiness, yet in a small part hoping all the lofty dreams she believe years ago may come true and vindicate her struggle. And at the same time hoping that he would abandon the pipe dream and take some of the responsibility and stress off her back and be the man she deserves. A man who would take care of her and not the other way round.
Yet because of habit and not even necessarily love (because I believe that all-consuming love that burns bright in the beginning fades after a while), she stayed and dealt with it, till it became a routine and each day passed like the last.
Now that's where it gets very heated, when family comes back into the mix, and the pressure begins to mount. Now overwhelmed with bills, with the probability of losing her home and the dream of becoming a Big Inventor not likely to actualize, now reality has it them in the face.
Firstly my view on the man is very simple: he is LAZY!!! I mean what kind of man lazes around and watches the woman he claims he loves, slave for his benefit not for a year or two but for every moment in their married life? As your dream hasn't come yet, could you not have tried to at least get a job that can sustain the home and help her around the house? How do you feel no guilt draining her of her entire inheritance? How do you not try to help her keep her home that she mortgaged for your dreams? How do you not attempt to man up and help, especially when you see the woman overwhelmed by the world? What kind of man drains a woman for 18 years and gets angry when he is called out by her family for allowing their family home go into for-closure, after it was his idea to mortgage it in the first place?
Sadly, that is exactly the kind of man Robert is, when faced with the option of having to MAN up to help with his wife and her family, he was angry and resentful because according to him she didn't stand up for him, Stand up for what exactly? I have no idea, but I believe his resentment comes from him now having to man up. He almost appears sad that the same back breaking work his wife has endured, all these years, he now had to endure.
Finally on suspicion of him cheating with the same person she caught him with 18 years earlier, Melinda finally files for divorce. We all need to understand that, every human has a breaking point – hers was with cheating, not his financial dependence. She got to her breaking point and left him. Robert could've gotten himself a job and still worked on getting a meeting and on his research. Perhaps worked a night job so he could work in the day on research or something but he chose to do otherwise.
It was obvious he was only with Melinda after a while, out of pity because she had invested so much, or perhaps because she wouldn't have children. When the Divorce was given, he left without contacting her for three months (he wasn't willing to fight for his marriage) and happily moved on to another woman who gave him shelter and cared for him. Just like that, 18 years with Melinda meant nothing to him. If a man truly loved a woman for 18 years, would he not go back to her once he got the breakthrough they had been praying for, which they had been working for all these years?
However I am even of the view that the breakthrough may not have come had he stayed with his wife. Why? His "angel" in the form of his Fiancee Diana, firstly couldn't understand why he wouldn't agree to the initial offer of $800,000 for his invention. However when he divorced and became "her" man she began pushing for the best deal, which included a large payout, and royalties for life. Would she have worked that hard for a deal like that had he been married to Melinda? I very much doubt it.
And yes the woman, Melinda made a terrible decision to let the opinions of her sisters, influence her and make her deaf to his pleas of innocence. But in my opinion, she should have never gotten back with him to marry him, and even then she should have left in the first year of marriage, when she was working to feed him. However she chose to leave him at the brink of his breakthrough and that was a decision she should have dealt with and made peace with.
After he hit, I will admit that Robert, was generous in giving Melinda $10 Million dollars for staying by his side and funding him all these years. However what is $10 million dollars for someone who has been expecting and sold on a dream of happily ever after, for the last 18 years. She fed him, clothed him, funded the dream and she gets 10 million, while the yatch you promised to name after her is named after your new wife, the same woman you cheated on with years earlier. Now that is a great cause to lose your mind, and that she did.
In my view it was never about the money, it was about being with Robert, living the "happily ever after" she had worked for and waited for all these years. It was about her long struggle being vindicated. So she lost her mind and spiraled down a destructive path.
It highlighted the severity of mental illness left unchecked and how someone can trigger another's breaking point and be blissfully unaware. Nothing hurts more than knowing that an Ex you still love, is happily living their best life, a life you felt you had sponsored and broke your back for. And that caused her to go on this Destructive Path.
One profound comment I partly remember in the movie by Melinda was in essence of "The First wife does all the work, and the wife gets all the rest" (or something close to that) and it leads me to question the entire concept of "Daabi daabi ebeye yie" or "one day it will be better kind" of guys. I may be a cynical because I have seen many men in this country that have traded their first wives in for a younger model once they have acquired wealth, but it raises the question if a man can or may change once they have found wealth? I don't know, but I do believe money enhances your qualities, but on the other hand, perhaps the man that will share his little wealth with you many give you his plenty. So it may actually lie more on the essence or characteristics of the Man, than his financial standing.
This movie did make me question the thought process of selection of a man and being on different wave lengths with him.
If a man is capable of making you fund things constantly, chances are, he is stingy and won't give you and marriage won't change that. Or if a man is only thinking of his dream and not asking you about yours, chances are, You will help build his dream alone and yours won't be touched and will you feel satisfied or fulfilled if that happens? If a man demonstrates traits that you don't like or can't deal with, chances are, marriage won't change that! Don't be the one that assumes the dad will be good once that ring is on his/her finger. I think this may be a prime example of such. But I leave that to you to decide.
So those saying it was all about the money and she would have stayed in her new relationship had she not heard of his big break. I don't believe in the least that It was about the money. It wasn't about giving her 10 million, it was about giving her the dream she believed in for 18 years. Melinda was deeply disturbed yes, but the many angles on social media that Robert was a Saint simply because he gave her compensation is inaccurate. Robert's character was no saint either. He allowed Melinda to lose everything just for his own selfish reasons. That entire relationship was no good for Melinda considering her instability. Melinda was supportive and loving but lacked self-control when she felt she was being cheated on.
In the end the message of the movie is about unforgiveness, bitterness and anger and what it can do to a person and a relationship, if left unchecked. Anger festers it really distorts reality and leads to destruction, of the relationship and ultimately of the Person. I have always believed anger can destroy so much, that moment of seeing red, can cause many to do or say things you can never take back.
So next time you approach a committed relationship, do a check list and ask yourself:
Am I using this person? And what am I using the person for? If yes, what happens when the reason for attract is no more there, or life deals us a hard blow, can I live with them?
Do I agree with this person in all areas, and are we on the same wave lengths in most things, including my Ambitions and theirs and can we live with it?
Am I happy with this person and can I love/deal/tolerate/ appreciate them/ through it all?
If I get 150 million dollars, will I leave him/her for a nicer model/wife/husband?
If your answers are undecided in any of these areas, please pause and re-evaluate before you have another mentally unstable Melinda type of man or woman on your case and become a story line or plot for a Ghanaian Film Production.
Until then, Peace, Love and Kelewele.
–
By: AJ Akuoko-Sarpong/citinewsroom.com/Ghana
(email: ajsarpong1028@gmail.com)