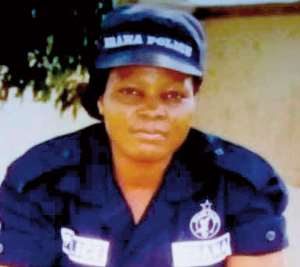 The late Cpl. Nana Agathar Nabin
The Interior Minister, Ambrose Dery has said the murdered police woman , Cpl. Nana Agathar Nabin, has been promoted to the rank of a Sergeant.
According to him, President Akufo-Addo recognized her hard work and the fact that she died in the line of duty.
"She joins the list of officers of the Ghana Police Service who rendered services to Ghana and lost their lives , her memory will never be forgotten," he said.
The Minister was speaking at the burial service of the late officer on Saturday in Tamale.
He stated that the late police woman remained an inspiration for the Ghana Police Service and other security services.
He assured that all the conditions that government has extended to officers who died on duty, will be extended to the late police woman.
Mr. Dery reiterated the commitment of government to ensure that Ghanaians live in peace in the country, adding that government has resourced the police service with logistics and will continue to provide them more logistics to enhance their work.
He called on Ghanaians to have trust in the police and also help them discharge their duties by assisting them with information.
The interior Minister said Ghana was still the safest country in West African and assured the family that the perpetrators of the crime will be brought to book.
The funeral mass service of the late Sergeant, Nana Agathar Nabin was held at the Holycross Parish Church in Tamale.
Most Rev. Philip Naameh, urged Ghanaians to support the family of the late officer with regard to the welfare of the three children she left behind.
The archbishop described the murdered police woman as a national heroine.
—Daily Guide