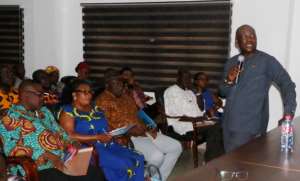 Administrative heads and directors of the National Disaster Management Organisation (NADMO) drawn from various Municipal and District Assemblies in the Greater Accra Region are currently undergoing a 3-day training on Finance, Human Resource and Technical aspects of Disaster Management.
The programme, organised by NADMO's Training Department is expected to equip the officers with requisite knowledge on the operations of the organisation.
Mr. Archibald Cobbinah, Greater Accra Regional Director welcomed the participants and said as an institution mandated to manage disasters, the entire nation was looking up to an effective and efficient disaster management system, therefore, the need for such a training. He urged participants to take the training exercise seriously to help them execute their duties effectively in their respective districts.
Mr. Seji Saji, (Deputy Director General, Technical & Reforms) in a brief remark, urged participants to take the exercise seriously in order to help change people's perception on matters relating to disaster management. He hinted that the purpose of the training was to build the capacity of Administrative heads and Directors from the grounds as first respondents.
He emphasized on the need for NADMO directors to establish an effective interpersonal relationship with MMDCEs to help them collaborate effectively on disaster management activities in the various localities.
The directors were also advised to help establish Disaster Management Committees in their respective Metropolitan, Municipal and District Assemblies.
Also present at the ceremony were Messrs. Abu Ramadan, Deputy Director General, Operations; Daniel Denteh Deputy Director General, Monitoring & Evaluation as well as Directors from the Headquarters