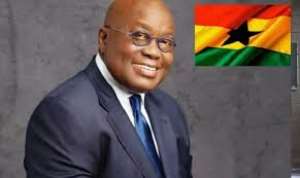 President of the Republic of Ghana, His Excellency Nana Addo Dankwa Akuffo Addo has called on world leaders all over the world to end their restrictions on free speech and the practice of journalism to enable Journalists all over the world to work freely without being attacked.
May 3rd is set aside to celebrate fundamental principles of press freedom around the world as well as to defend the media from attacks and pay tribute to journalists who have lost their lives whiles carrying out their duties as journalists.
Speaking as the guest of honor at the Gala of the World Press Press Freedom Day 2018 held at the Kempiski hotel, his Excellency appealed to Governments the world over to put an end to state sponsored acts that seek to restrict the practice of Journalism in any way.
The First Gentleman of Ghana, pronounced that it is disheartening to note that through proven to be a catalyst in spearing the advancement of the society in the 21st century, we still have many countries that frown on free speech.
The President who frowns on any form of attacks on Journalists added that the fact that this year's awards winner Mahmoud Abu Zeid also known shocker is in jail for as it were taking photos, is a signal to us that our generation still has much ground to cover as far as freedom of the press is concerned.
Nana Addo additionally commended the Ghanaian media for its role in enriching the nations Governance by its curiosity, investigative skills and its persistence. بطاقات كاش يو
"Indeed a democracy has no place for a media that does not keep a government on its toes. ون كرد When supported the free press has the potential to quicken the development of societies".
"I will say again, that I must prefer the noisy, boisterous and sometimes scandalous media of today to the monotonous, praise singing sycophantic one of yesteryear", said His Excellency Nana Addo Dankwa Akuffo Addo.