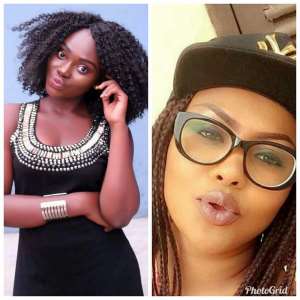 The fast-growing kumawood actress, Ama Amponsah who is popularly known in the showbiz industry as Spendylove has reviewed her feelings having for the colleague Kumawood Actress, Nana Ama McBrown, says she is the best among actresses in Ghana and would like being like her.
Expressing her notion, her acting style is in accordance with that of the Kumawood star' Nana McBrown so she has taken her as a role model, dreaming of being her in a near future.
She told mynewsghana.com that she has been waiting for the right time to showcase to the public of her emotion a while now which she thinks is now.
"Have waited for all this while to tell the public about this, but I think this is the best time for me to let it out. I really love everything about Nana Ama McBrown, when it comes to acting and some controversial roles they give her and how she delivers it out professionally, making waves both in Ghana and abroad.
Her lifestyle and her contribution to the society and the country as well, that, I can boldly say she is the one am looking at. I started watching her movies when I was just a 7-year-old child.
This really inspired me to be an actress, I even told my parents about it that, I will be going into acting because Nana Ama MCBrown is the woman I look up to. They thought I was just kidding, but here I am today, a talented young actress in the kumawood industry". Tells mynewsghana.com
"My mother always used to tell me I should have a vision in life and make sure I concentrate on that, this piece of advice kept me going always, I am really young though, but I am put on a matured role in my acting. I also love what I am doing, because Nana Ama Mc brown keeps me going always.
My style of acting is to play a role to inspire, motivate and speak more into the life's of young adults like my type, and the general public as well". She said.