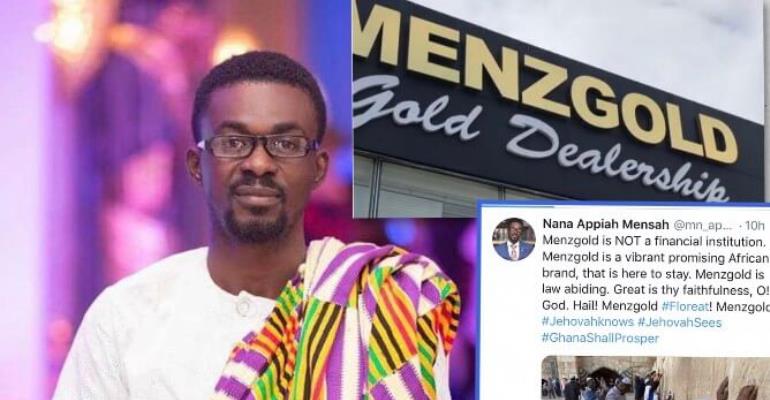 Nana Appiah Mensah, (CEO) of Zylofon and Menzgold Ghana Limited, has resurfaced once again on social media after taking a break following Deputy Finance Minister's claim that it is over for Menzgold.
Yesterday, November 1st, The Deputy Minister for Finance, Charles Adu Boahen said that it was over for Menzgold and there is no way it will be allowed to operate in Ghana again.
Mr Charles Adu Boahen who was speaking at JoyBusiness Financial Service Forum themed "The Changing Tide of Ghana's Financial Service Sector: The Cause, The Cost, the Clean up" made mention of the Menzgold saga.
Answering a question on the possibility of Menzgold working operating again and it's responsibilities to pay customers their principal, the Deputy Finance Minister of Ghana said:
"With the Menzgold issue, I think it is clear that the end is here; He is done". Menzgold's activities came under the SEC regulations and what they were doing was considered to be trading and they did not have a license to trade so in the current capacity of what they were doing their license has been revoked and they have not been able to provide any evidence why they should be reinstated."
"So as far as I'm concerned from what I understand from the SEC they are not allowed or they do not have the license to trade. However, nothing prevents them from paying depositors back."
Nam1 in his reaction to the comments passed by the Deputy Finance Minister took to Twitter and wrote,
"Menzgold is NOT a financial institution. Menzgold is a vibrant promising African brand, that is here to stay. Menzgold is law abiding. Great is thy faithfulness, O! God. Hail! Menzgold #Floreat! Menzgold #Jehovahknows #JehovahSees #GhanaShallProsper"
SEE HIS POST BELOW: