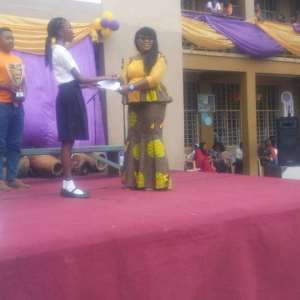 Edupro Concepts Ventures on Saturday, presented an award to Miss Jessica Akpalu, for being the overall Best in the Junior High School category of this year's edition of the National Hard Spell and Quiz Competition.
Miss Akpalu, a form two student of De Youngsters International School in Accra, emerged winner of the 2017 National Hard Spell and Quiz Competition after beating 13 other contestants.
For her price, she received a trophy, cash prize, medal, and exercise books and would represent Ghana at the International Spelling Bee competition slated for November, 2018 in Kenya.
Miss Akpalu disclosed to the Ghana News Agency that, she could not have achieved her goal but for the support and encouragement from her parents, teachers, school management, mates and her siblings.
She advised her peers never to give up but study their books, continue to read wide, and trust in God for divine guidance.
Mrs. Christabel Vida Botchey, the CEO of Edupro Concepts Ventures, a Tema based non-governmental organization and organizers of the annual event, said the contest was introduced to provide a platform to train the country's future leaders.
She appealed to corporate institutions, politicians, religious organizations, individuals, among others to help them reach as many children as possible.
Mrs. Botchey advised students to develop reading habits as that would broaden their knowledge base adding that 'when you read, the sky is your limit'.
Mrs Juliana Awo Lawson, Events Manager of Edupro Ventures, reiterated the call on institutions to support the spelling project as part of their corporate social responsibility.
Mrs Lawson said institutions must not only give to people known to them but invest in ventures that would improve upon the lives and future of the community members.
She said her outfit had a vision to encourage children in less endowed schools to read, learn and build their confidence to participate in such learning contest to be at par with the well-known schools
She stated for instance that the first champion of the competition who came from a school in Nima has been put on a scholarship programme in the United States of America.
Mr Foster Dulles Darko, Headmaster, De Youngsters International School, commended Edupro Ventures for organizing the spelling competition, and inculcating reading habits into the children