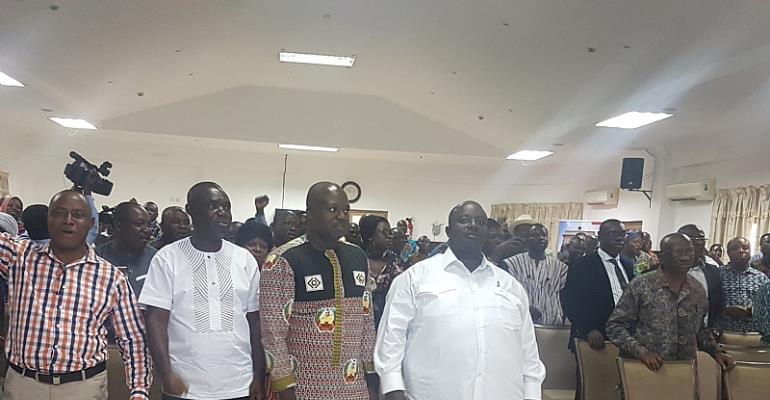 The National Labour Commission (NLC) is seeking clearance from government to charge its clients, as part of drastic measures which will enable them raise income internally.
According to the Executive Secretary of NLC Mr. Ofosu Asamoah, paltry allowances paid to commission is just not enough to resource the commission.
He lamented that the commission is under-resourced hence effective delivery of services have been generally poor.
Currently, the commissioners sit once a week from 9am to 10pm and receive GH¢400 each per sitting, and when the cases are referred to the arbitrators by the commissioners, the arbitrators received $350 per hour.
He made these statements at an organised labour forum held in Accra on the theme : Industrial Dispute Resolution: The Law And Practice
He further added that, the NLC has only one lawyer to prosecute more than 200 cases this year.
"The vacancies are there, we need to engage 4 lawyers that is what has been approved for us.
We have only one, we want to go ahead to employ and yet we haven't gotten financial clearance and we are battling with the cases like this.
Like I told you between May 4th, to today about 200 fresh complaints have been lodged, we need to deal with it and this is one of the problems, I don't know what is happening".
On his part, Spokesperson for Organized Labour, Dr. Yaw Baah backed the commission's action.
"Even in my own capacity as trade union, we would like to support them, today it's financial we will do it to make sure it supports our work because without them, our members are been denied justice all over the country.
We have battled for cases running into thousands of dollars which is not good for us, it's not good for the union and workers" he stressed.
The NLC was established by Act 651(2003) to facilitate the settlement if industrial disputes; investigate labour – related complaints, in particular unfair labour practices and take such steps as it considers necessary to prevent labour disputes.
Also, it is to ensure that it will maintain a Database on qualified persons to serve as mediators and arbitrators;
And promote effective cooperation between labour and management; and perform any other function conferred on it under Act 651 or any other enactment.