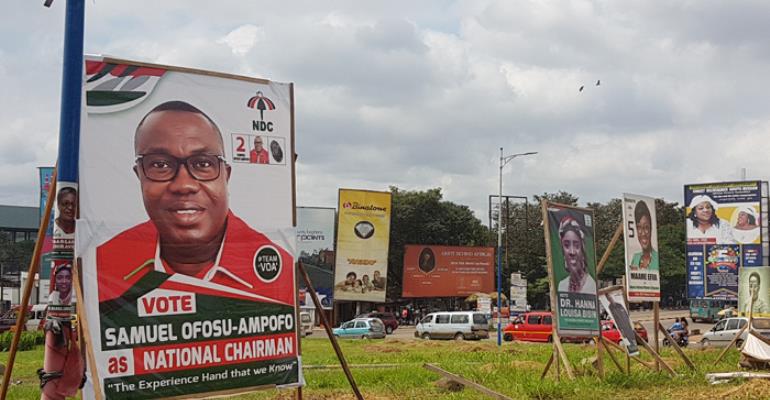 THE VARIOUS contestants for national executive positions in the National Democratic Congress (NDC) have intensified their campaigns in the Ashanti Region lately.
As the NDC election date is fast approaching, the NDC contestants are said to have increased their campaign programmes in all the 47 constituencies in the Ashanti Region.
The NDC aspirants have mounted huge campaign billboards and banners at vantage points in the region, which is a clear attempt to help them garner more votes in the party polls.
DAILY GUIDE on Tuesday spotted several giant billboards of various NDC contestants at the Suame Roundabout in the Suame Municipality – one of the busiest roads in the region.
The campaign billboards are huge and strategically positioned around the roundabout in order to catch the attention of drivers, passengers and pedestrians that ply the busy road.
Some of the people in Kumasi, especially the NDC supporters that spoke to the paper, commended the various contestants for the open political campaign.
They said giant billboards and banners have helped to market the NDC to the people in the Ashanti Region. According the NDC supporters, the billboards have proven that the NDC is still strong.
The paper also learnt that the various contestants have been visiting the region on the quiet to explain their policies and programmes to better the fortunes of the NDC to the party delegates.
In a related development, some people in Kumasi, who are clearly not NDC members, have stated that the huge billboards and banners are indication that the NDC members still have cash.
They said they were surprised that the NDC contestants had decided to embark on such flamboyant campaign strategies by displaying giant billboards and banners in the city even in opposition.