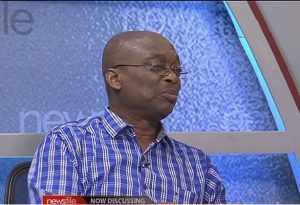 Editor-In-Chief of the New Crusading GUIDE, Abdul Malik Kweku Baako, has observed that the National Democratic Congress' (NDC) defeat in the 2016 General Elections was largely caused by the party's focus on discredited worn out attacks instead of campaigning on issues.
The NDC lost in the 2016 General Elections with a difference of 1, 502, 749, polling 4, 213, 277 representing 44.40 % while the New Patriotic Party (NPP), won by 5, 716, 026 representing 53.80%.
In his assertion on Metro TV Thursday morning Kweku Baako noted that the party rather decided to make the flagbearer of the NPP, Nana Addo Dankwa Akuffo Addo popular by their vilification and attacks on his personality.
He observed that the party's parliamentarians, district and municipal chief executives became over confident and complacent, relying on the image of President John Dramani Mahama and the projects he commissioned.
Kweku Baako could not help but alleged that the NDC managers squandered the campaign resources and went to sleep, thinking that victory was automatically theirs.
"And you could see that from the pockets of violence which has broken out in the party about some supporters complaining that monies did not reach them", he posited.
Unlike the NDC, Mr. Baako further observed that the NPP was more focused and unperturbed by the division and past election results propaganda against them, saying "they did more of a retail campaign, where Nana Akuffo Addo changed his strategies and tactics".
He stressed that they took lessons from the 2013 Supreme Court rulings and became more determined and vigilant so much so that they trained their polling agents very well and took the reforms by the Electoral Commission and the Inter Party Advisory Committee (IPAC) seriously