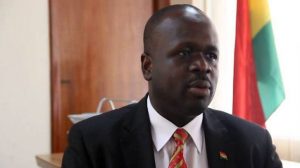 The incoming New Patriotic Party (NPP) government has alleged that the outgoing Mahama-led administration is colluding with RLG communications to dupe the state in a GHc93million contract it signed with the latter to provide the state digiboxes.
The government and RLG, according to reports on December 19, 2016, entered into an agreement for the provision of the said products and that payment is to commence when the consignments are delivered by the end of January 7 this year.
However, before the first delivery, the communications Minister, Edward Omane Boamah had written to the Attorney General and Minister of Justice seeking advice to vary the contract so that RLG can be paid in advance of 30% or almost GHc28million.
But chairman of the Communication team of the NPP transition team, Ursula Owusu Ekuful has described the move by the outgoing Minister as unacceptable and suspicious.
"…As late as yesterday [Wednesday], I have been looking for the document on the tender processes because some of the losing bidders also have issues with the manner in which this contract was awarded to RLG," she said in an interview with Accra based Joy FM.
She added: "All those documents are unavailable in the files of the Ministry of Communications and I have been there and I have seen those files. The tender document process are not in those files.
"I am seeking them from other sources only to be informed this morning that the Minister is seeking to amend the contract which doesn't provide for advance payment to insert in it that RLG should be given 30% of the contract sum up front within the next few days to enable him do the work that he has agreed to do without any equivocation."