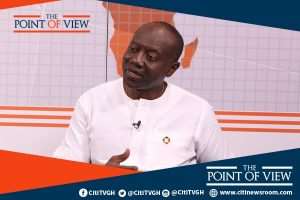 Finance Minister Ken Ofori-Atta, appears to be in agreement with the suggestion that the Free Senior High School programme may have to be targeted at persons with genuine need and not made to benefit everyone.
Using himself as an example, the Minister said someone in his economic bracket should not be enjoying such a policy.
"True, it may be that there have to be changes in the way we are administering it. I can't take my child to Achimota or Odorgono and leave him or her there and drive away and not pay for anything whiles I can pay for ten people," he said on Citi TV's Point of View.
But before the government can move away from the way the policy is currently being implemented, Mr. Ofori-Atta said: "we need to begin to get the data to then be discriminatory in how and who pays and who doesn't pay."
The argument for the Free SHS to be targeted was made prior to the implementation of the policy by some groups like IMANI Africa and the National Association of Graduate Teachers, NAGRAT.
Whilst acknowledging this fact, the Finance Minister said the government's priority was that all eligible children were receiving secondary education.
"Each soul is important. You would rather make that mistake, if it was a mistake to get everybody in the system for the nation to then begin to have a conversation and say this is good for us because we want our human capital to be at a certain level but maybe, let's begin to adjust it this way."
Any potential adjustment will be in line with suggestions from some observers like IMANI Africa.
Speaking on The Big Issue, Mr. Cudjoe said it was clear the Akufo-Addo administration is in dire need of funds.
"As to whether the quest, if it is proven, for increased taxes is because of government's expansionist approach, I can say without blinking an eye that – yes."
As a solution, the IMANI boss said "persons who can afford some of these interventions should also start paying for them. It is very critical. At the end of the day, some people who are enjoying free SHS right now probably have extra cash to do other things and they probably don't need it."
As it stands now, Mr. Cudjoe expects the cost of Free SHS to go upwards to GHc 1.2 billion.