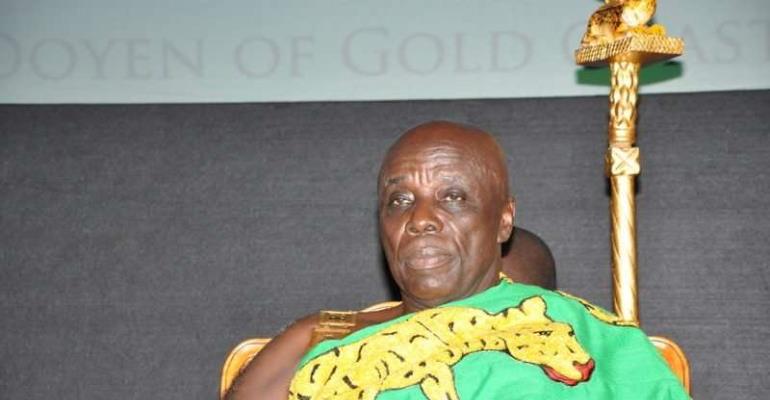 THE Akyem Abuakwa Traditional Council in the Eastern Region has debunked media reports that it intends to demolish over 500 buildings to make way for the expansion of Okyenhene Osagyefo Amoatia Ofori Panin's palace.
There were media reports that hundreds of residents at Kyebi who live around the palace of Okyenhene were anxious about the alleged demolition of their buildings.
According to a statement issued by one Daniel Aboagye, a member of a group calling itself 'Concerned Citizens of Okyeman', who claim to represent the interests of residents, the affected residents have been directed to leave the premises to enable the expansion project to get underway but they have nowhere to go.
However, reacting to the allegations made against the Okyenhene as regards the eviction exercise for the expansion project, the spokesperson for the Okyenhene, Danny Ofori-Atta, described them as palpably false.
In a signed statement to set the records straight, he disclosed: "His Royal Majesty the Okyenhene, Osagyefo Amoatia Ofori Panin in the year 2007 began a process of extensive renovation of the Ofori Panin Palace. Therefore, it became necessary in the year 2014 to serve notices of eviction to squatters around the palace; these are residents of houses constructed and owned by the Ofori Panin Stool to serve as quarters for domestic staff and officials of the palace. Strictly speaking, these are part of the Ofori Panin Palace infrastructure."
He stated that the Ofori Panin Fie has found it necessary to react to news reports with regard to the alleged demolition of 500 houses at Kyebi ostensibly to pave way for expansion of the Ofori Panin Palace.
He added "the traditional council in consideration of the interests and concerns generated in public discussions has no such policy to expand the Ofori Panin Fie and has not served notices of eviction to 500 residents of Kyebi".
He explained: "Upon humanitarian consideration, the Okyenhene ordered that those affected be given assistance to rent houses and those who wanted to build houses be given land at no cost. These houses that we are talking about – 10 in total and not 500 as reported – were occupied by previous servants of the palace – almost all of them have passed on".
"These structures have now been taken over by squatters or people who have no connection with the palace whatsoever. So, it became necessary to renovate these structures to give them to some of the current servants of the palace. It is also important that the area around the palace is given a befitting status by beautifying the area. That over 500 houses are to be demolished is preposterous and irresponsible. We see it as a drop in the ocean amongst several attempts to denigrate the person of the Okyenhene . . . " he explained further.
However, he urged the public especially the natives of Kyebi to ignore the baseless allegations made by the so-called 'Concerned Citizens of Okyeman' and Daniel Aboagye, since they are being mischievous.
FROM Daniel Bampoe, Kyebi