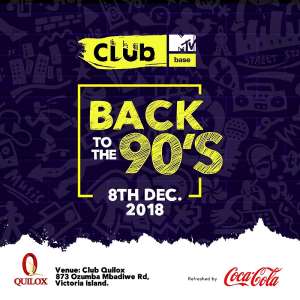 The 90s are coming back this December and Nigeria's biggest names are definitely going to be there for it. Refreshed by Coca Cola, MTV Base is bringing back its famous Club MTV Base event and taking things up a notch.
The event, which holds on Saturday, December 8th at Quilox kicks off by 10pm, and will have in attendance some of the biggest names in the Nigerian entertainment industry.
Nollywood star and Ghanaian actress, Juliet Ibrahim, 90s popstar, Olu Maintain, Musician LAX and one of UK's biggest concert promoters, SMADE, will be attending the throwback fest, that is Club MTV Base. The theme of the event, 'Back to the 90s', will have guests dressing in throwback 90s costumes and grooving to both international and local 90s hit songs. Spinning the nostalgic jams on the big night is none other than the host of MTV Base DJ Takeover, DJ TTB.
DJ TTB's set will feature 2 hours of stunning audiovisual music mix of thrilling songs to take the audience back memory lane.The party will definitely have a number of A-list partygoers in attendance and will be an experience like none other.