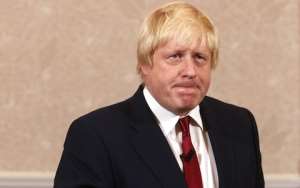 Accra, Sept. 28 – (DPA/GNA) – Divisions over Brexit intensified in Britain's ruling Conservative party on Friday after former foreign minister Boris Johnson launched another scathing attack on Prime Minister Theresa May.
Johnson presented his own alternative Brexit plan in a 4,500-word article for The Daily Telegraph, saying May's Brexit proposals, known as the Chequers deal, represented a "moral and intellectual humiliation" and a "democratic disaster."
The government had delivered a "pretty invertebrate performance" in Brexit negotiations, he said, adding that, "there has been a collective failure of government … to deliver on the mandate of the people."
The pro-Conservative newspaper splashed its main story on Johnson's intervention across its front page, which was dominated by a large photograph of the outspoken politician, who resigned his ministerial post in July to oppose May's plan after two years in the job.
His attack, two days before the Conservative Party conference, increases the pressure on May, who has struggled to unite her party behind her plan even as the deadline for Britain to leave the European Union on March 29 approaches.
Johnson was backed by influential right-winger Jacob Rees-Mogg, who heads the Conservatives' pro-Brexit European Research Group of lawmakers.
"I think the negotiations have been badly conducted. I think we have let the European Union make the running in negotiations," Rees-Mogg said on the BBC's political programme Question Time.
Rees-Mogg said earlier this week that his group wants to "see Chequers changed but will vote against it in the House of Commons if it is not."
Fellow Brexiteer Bernard Jenkin tweeted that Johnson's arguments were "unanswerable" and "powerful," while Nadine Dorries, another eurosceptic lawmaker, said the article showed Johnson was "a man with a plan."
"Fantastic article from Boris Johnson, a man who truly believes in Britain and discusses our glorious future post-Brexit," said another Conservative lawmaker Andrea Jenkyns.
But pro-EU Conservative Nicky Morgan mocked the article, saying it showed that Johnson had "clearly made his decision" to return to his career as a journalist.
Tom Brake, Brexit spokesman for the opposition Liberal Democrats, said Johnson "had ample time as foreign secretary to negotiate his Brexit fantasy."
"Now, with just six months to go before the UK falls out of the EU, the Tories continue to kick Brexit around as a political football," Brake tweeted. "This is insulting to millions of people and businesses."
Johnson said last year's snap election, in which May lost her majority in parliament, was a "serious strategic mistake … but the single greatest failing has been the government's appalling and inexplicable delay in setting out a vision for what Brexit is."
He urged the government to seek an agreement with Brussels similar to the free trade agreement recently reached between the EU and Canada.
Johnson said his plan would not mean the introduction of a hard border between Northern Ireland and the Republic of Ireland, one of the main stumbling blocks in the Brexit negotiations, saying customs checks could be carried out away from the border.