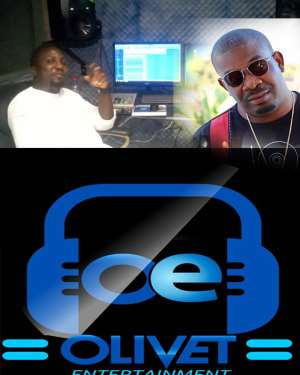 Information reaching Komfa Ishmael a reporter indicates that one for the Don Jazzy's sound engineers by the name OB Beat from Nigeria is currently in Ghana to sign a 5-year contract deal with one of the fastest rising Entertainment firm in Ghana called OLIVET.
Mr. MC Brown asserted that the main rationale behind the signing of the sound engineer from the camp of Don Jazzy is blending the Ghanaian and Nigerian music together.
According to him even though the contract is not yet signed the OB beat is currently in the country and talks are ongoing.
"Yea OB Beat is one of the promising sound engineers in Nigerian and for that matter, he works under Don Jazzy and as you already know working under Don Jazzy has exposed the sound engineer to so many experiences. We brought him here in Ghana so that he can blend rhythms that of Ghana and Nigeria. We are still negotiating and we hope everything will be ok".said Mr. Mc Brown CEO Olivet entertainment.
Olivet Entertainment which was established in January 2018 is one of the entertainment giants that everyone should be expecting something extraordinary from. As entertainment firm they have they own recording and video studio, this means most of their works interns of recording and video shooting will be done by themselves. They are into full artiste management, recording and video shooting.
Mr. Mc Brown CEO of OLIVET entertainment also affirmed that they ready to pump over one million dollars into the music industry by managing and bringing out a lot of underground musicians. The label currently has one male musician with the Sam Singer and they looking forward to sign more by the end of this year.
"We will be pumping over one million dollars into the music industry, we are going t recruit talented musicians, video editors, instrumentalist both Ghana and Abroad that is why we are bringing OB beat from Nigeria."He added.
OLIVET entertainment seems to be on a competitive table with zylofon media but the CEO disclose to us that they are not in competition with any record label in Ghana