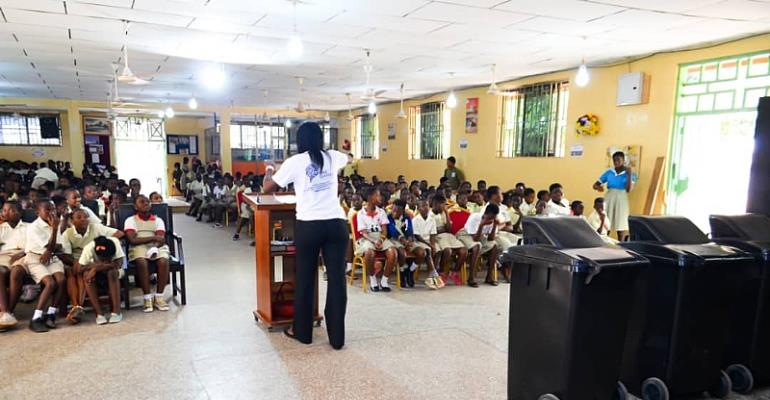 The OneGhana Movement, a not for profit social action organization which seeks to promote citizen responsibility visited the Faith Community Baptist Complex Schools at Madina to sensitize students on best practices in good personal hygiene and environmental sanitation.
The sensitization campaign is part of a series of activities being undertaken by OneGhana Movement under the Community Grassroots Engagement Project of the RightWay Initiative.
The purpose of the initiative, which was launched in February this year, is to help address various societal cankers under the theme, "Sanitation/Environmental Discipline."
Ms. Emily Kanyir Nyuur, Project Coordinator for the RighWay Initiative of OneGhana Movement spoke to the students about the importance of keeping the environment clean.
She advised the students on proper disposal of rubbish, proper handwashing with soap and water after using the toilet and also before eating.
Ms. Emily also emphasised the importance of water conservation, waste segregation as well as introducing the concept of "Waste is Wealth" to the students by showing them samples of artwork, sandals and waste bins made from plastic bottles and polythene bags.
She further encouraged students not to hesitate to correct their peers and even adults who they find littering indiscriminately or doing the wrong thing but in a very polite manner.
The teaching and non-teaching staff urged to support the campaign by teaching the students the importance of personal hygiene at the formative years so that they would grow up to become responsible adults with the right attitude and mindset or behaviour.
OneGhana Movement donated waste bins to the school to ensure that the students dispose of rubbish properly, and prevent filth around the school compound and their surroundings in general.
Messrs Philip Addo and Wisdom Bankesie, the Assistant Head teacher and a teacher, both expressed their appreciation to the OneGhana Movement for their education and donation to the school.
They also appealed to OneGhana Movement to come back and teach students how to create artwork and other material from waste products.
About RighWay Initiative
The RightWay Initiative is holistically tackling the problem of Sanitation by engaging and educating citizens at the grassroots level to help shape mindsets, organizing policy roundtable and lecture series to influence policy, and also placing litter bins in public areas through the RightWay Initiative – Adopt-A-Bin campaign; to help rid the streets of filth and push the agenda of making Accra the cleanest city in Africa by the year 2020.
The Adopt-A-Bin Campaign as its name suggests, is a call to organisations and individuals to sponsor the initiative by purchasing public litter bins to be placed in vantage points across the city, to help curtail the growing sanitation challenges faced in the city.
For further information, to sponsor or to partner the organization on the project; kindly contact us at info@oneghanamovement.org .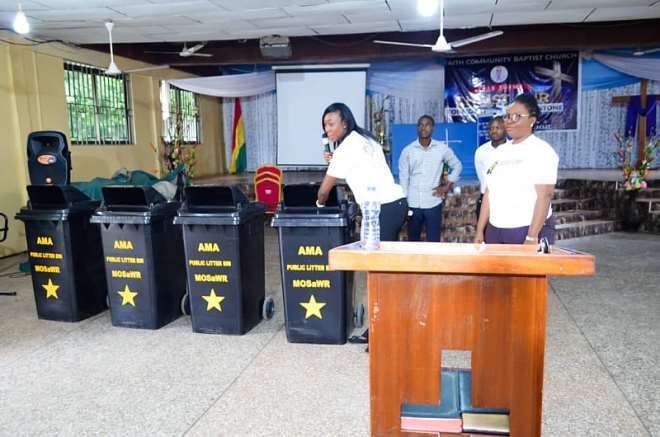 Img-20180712-wa0008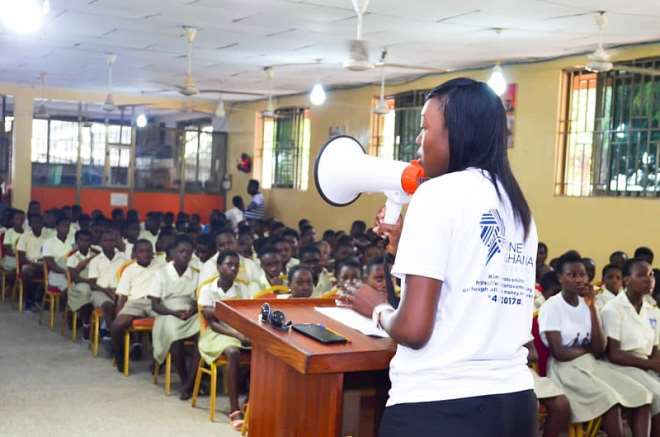 Img-20180712-wa0006