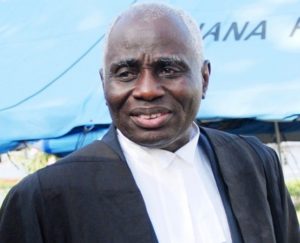 A former chief executive of the Ghana National Petroleum Corporation (GNPC), Mr Tsatsu Tsikata, has supported calls for a criminal probe into how Freddie Blay funded 275 minibuses for the New Patriotic Party (NPP).
According to Mr Tsikata, the matter of the buses can only be allowed to rest after a criminal probe against Mr Freddie Blay, the chairman of the NPP who is also the board chairman of the GNPC.
The matter of the 275 buses purchased by Mr Freddie Blay for various constituencies of the NPP generated a debate ahead of the NPP's delegates conference in Koforidua on July 7, 2018.
Even though Mr Blay has explained countless times that he secured a bank facility alleged by his critics to be from UMB for the buses, some people, particularly in the opposition National Democratic Congress (NDC) still think the source of funding for the buses should be probed.
In a television interview on Joy News Monday, Mr Tsikata argued that: "It doesn't help to do it [buy it] at the time, just before a primary or just before an election because of the perceptions and that's a reality also."
I have bought cars, motorbikes for the party in the past, it's not fair to criticise me now – Freddie Blay
"Obviously if there are calls including calls by some of the people who lost the election, they are serious matters of criminality, so those matters would have to be investigated and they would have to be investigated in terms of the normal criminal investigations."
Adding Mr Tsikata said: "In other words, vote-buying involves using monetary inducements in connection with a forthcoming election, so there was an election process in view, that's evidence he procured these buses for constituencies and for people who will be involved in the voting process, that's also a fact."
"But you know again, I don't want us to make this too legalistic an issue, its not just about the legalism of whether Freddie Blay is guilty of the crime, or he is not guilty of the crime."
275 Blay buses v. 55 ambulances: God must kill our leaders – Kwaw Kese
"What I am saying is that, if I were Freddie Blay, I would also sit back and reflect, what impression has been created through my actions and could that have been avoided, and honestly looking at it in that perspective, I'm sure that he, Freddie Blay will recognise he could have done it a bit differently," Mr Tsikata said.
It's 'foolish' to question timing of my bus purchases – Freddie Blay