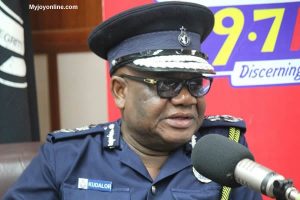 By Rockson Adofo
Dear Dr. John Kudalor,
My attention has been drawn to your recent order to the police personnel to cease checking drivers and motors plying our roads. Whatever your motive behind such an order, seems to be defeated provided it was well-intended, unless it was to promote and be supportive of the numerous crimes taking place in the wake of your order.
Of recent times, the carting of arms and ammunitions from unknown places throughout the country into the Ashanti region is raising an eyebrow. The situation is becoming alarming at each passing day.
If the police, who although were notoriously noted for accepting bribes whenever they flagged down a vehicle to check the driver, were not stopped from performing that duty, I should think the rate at which illegal weapons are founding their way into the Ashanti region would be minimized.
I am sure it was not your intention to cunningly aid those transporting arms into the Ashanti region from where no one knows.
Are the arms supposed to be used against the electorates on the voting day as some people seem to suggest? It is beyond the understanding of any discerning Ghanaian to see how such sophisticated weapons are constantly being intercepted in Kumasi following tip offs.
Would you please rescind your decision for the sake of curtailing the harm and damage such weapons could do to innocent citizens whatever the possessors' intentions are? We want the police to stop and search vehicles but to make sure they don't take bribes for which they are infamously noted for.
I hope you accord the necessary and urgent attention to this letter of mine.
Yours Faithfully,