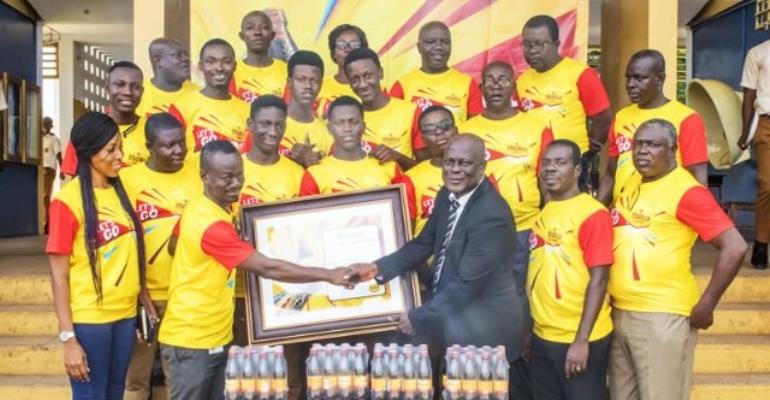 Malta Guinness, the nation's favourite non-alcoholic malt drink, has applauded Opoku Ware Senior High School (OWASS) for making Ghana proud by winning this year's Global Innovative Award at the World Robotics Championship held in Michigan, USA.
Opoku Ware Senior High beat High schools from all over the world including Pakistan, India, China, Europe and the United States to be crowned winners at the event held in May 2018.
A team led by Yaw Mensah, Divisional Sale Manager, Middle Belt, of Malta Guinness after commending the school, donated some products to celebrate the greatness of the students and also congratulate them for their hard work.
Products donated included 20 packs of PET Malta Guinness, 10 packs of can Malta Guinness and T-shirt to all competitors.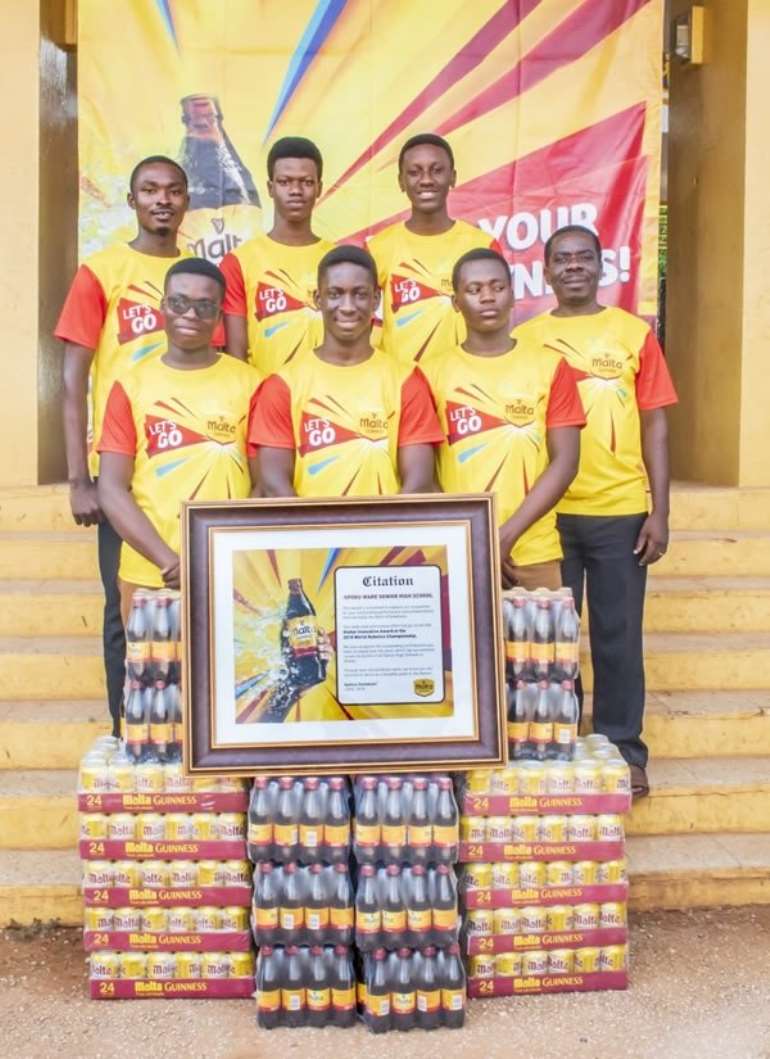 Speaking at a short presentation ceremony, Divisional Sale Manage for Malta Guinness, Yaw Mensah, said "The move by Malta Guinness is one of the brand's way of fueling greatness among the young generation as little drops of greatness if encouraged, will go a long way to make a great.
"As a brand, our support is not only towards our consumers but also to anyone making Ghana proud. It is also to recognise the commendable effort demonstrated by the Students and Teachers of Opoku Ware School in the competition to put Ghana on the world map. You are truly Akatakyie!" he added.
He noted that Malta Guinness was committed to developing and inspiring the youths and Ghanaians to make huge strides in their endeavours, adding that the achievement of Opoku Ware School needs to be emulated by other schools in Ghana.
Mr. Mensah further congratulated all participants from Opoku Ware School who represented Ghana at this year's World Robotic Competition, declaring them all as national heroes as their toil and dedication have powered the nation.
He urged the school to continue to produce genius students who will always make mother Ghana proud.
Receiving the items, Head Master of the school, Dr. Alexis Frimpong Nimoh, commended Malta Guinness for its kind gesture.
"We are happy to see a brand like Malta Guinness coming to congratulate and celebrate the school, the thought of it is so refreshing and we hope Malta Guinness will continue to fuel the energy of our youth to achieve greater things for Ghana," he said.
Story by Ghana | Myjoyonline.com | GN