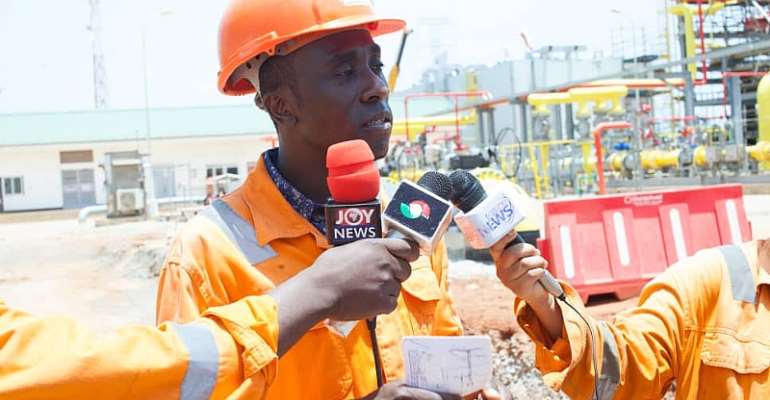 Head of Corporate Communications at the Ghana National Gas Company, Ernest Owusu Bempah, says the company under the board and leadership of Dr. Ben Asante has chalked a lot of success as a result of meticulous management.
President Akufo Addo on January 30, 2017, named Dr Asante as the acting Chief Executive Officer for the Ghana National Gas Company based at Atuabo in the Ellembelle District of the Western Region of Ghana.
"Since his assumption of office as CEO for a strategic national asset for the country, the board supported him to use competent locals in the operations and management of the company which saved the country from paying millions of dollars to Chinese nationals and other expatriates who were managing the facility, if you care to know it took Trinidad and Tobago so many years to indeginise but under the board and exemplary leadership of the CEO this has been done it in no time.
He also realised within the oil and gas sector, Ghana Gas workers were among the least paid and sought approval from the board to better their conditions of service. The workers' salaries were increased from 30-85 percent.
He further stated that initially the company had 150 workers but can now boast of more 650 workers who have diligently been trained in Health, Safety, and Environment without recording any major incidents of which the company will soon pay close to 20 million cedis as dividend to the Akufo Addo administration.
The company also recently commissioned an ultra-modern Gas company at AB Bokazo by President Akufo Addo to be used as an operational office which was built from scratch and a project started by the NDC, so Ghana Gas is better off under Dr. Ben Asante.
Mr. Owusu Bempah stated that some of the company's achievements include two successful ties at Sanzule which increased the production of gas from 90mmscal to 350mmscalf, the completion of the reserve flow project and massive CSR projects in the Western Region and other parts of the country.