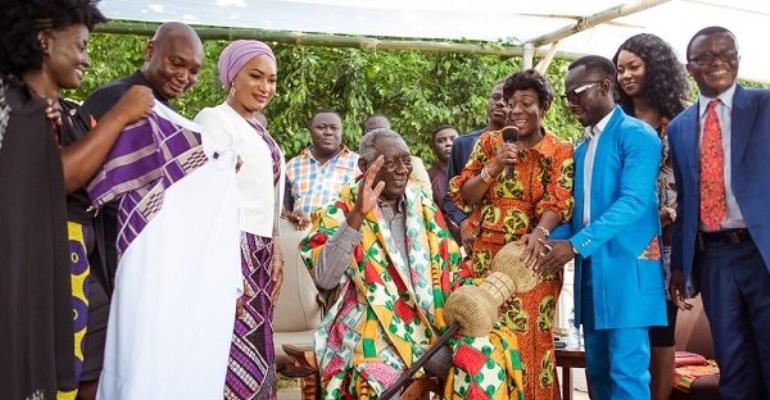 The first-ever AU Arts Festival opened in Accra on Friday, with the Chief Executive Officer (CEO) of Menzgold and Zylofon Media, Nana Appiah Mensah, donating gold worth hundred thousand (100,000) dollars.
The three-day event brought together young artists to paint the life and achievements of John Agyekum Kufuor, the former President of Ghana, and to raise funds for his J.A. Kufuor Foundation.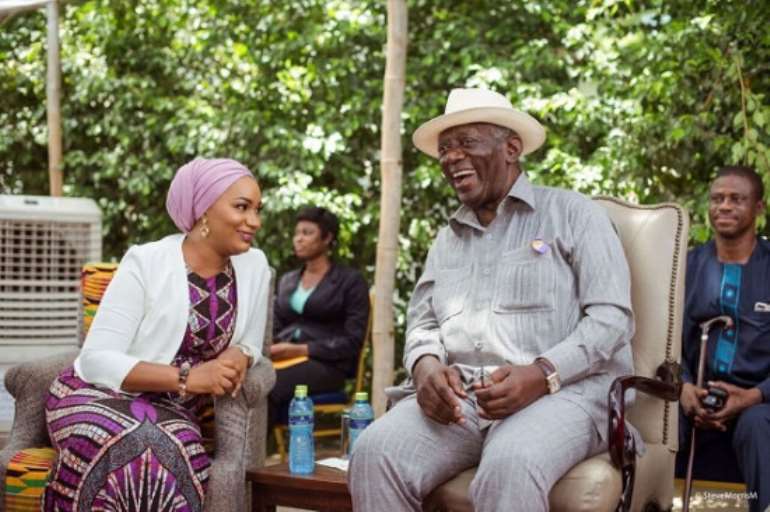 On display at the venue from the morning were paintings, collages, wood carvings, poetry, palm-wine music, traditional music, choral music, pop music and many more.
The programme, chaired by Catherine Ablema Afeku, Minister for Tourism, Culture and Creative Arts (MTCCA), was graced by dignitaries such as the Second Lady of Ghana, Samira Bawumia, and the First Deputy Speaker of Parliament, Joseph Osei-Wusu.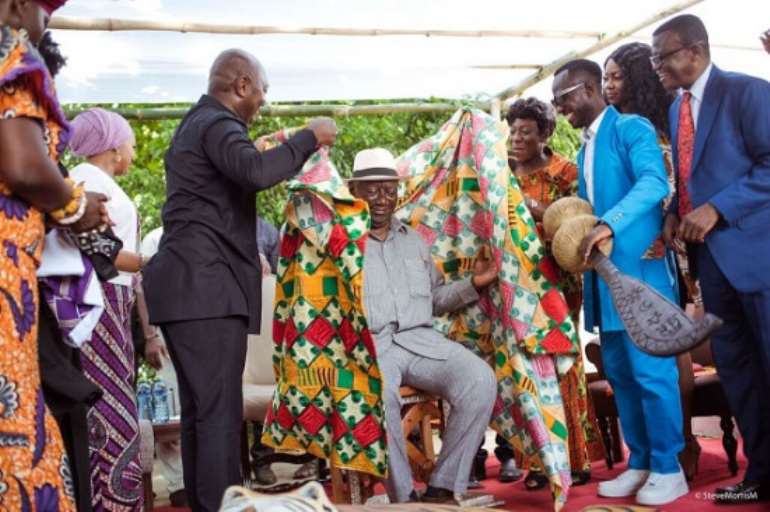 The rest were the CEO of Digital Plex Limited, Mr. Bhagwan Asnani, members of the diplomatic community, and a host of celebrities, including Yvonne Nelson, Akumaa Mama Zimbi, Princess Shyngle, Ekow Smith-Asante, Prince David Osei, Root I, Rhymesonny, Ruth Quarshie (Miss Universe Ghana), among others.
The donation by the CEO of Zylofon Media, Nana Appiah Mensah, had the portrait of John Agyekum Kufuor embossed on them.
Also, the AU Arts Festival committee also enstooled Mr. Kufuor as Agoro Hene (King of The Art). Asked about the reason for the enstoolment, Okyeame Kwame explained that the plan of the festival is to make Him a lifelong patron of the Art.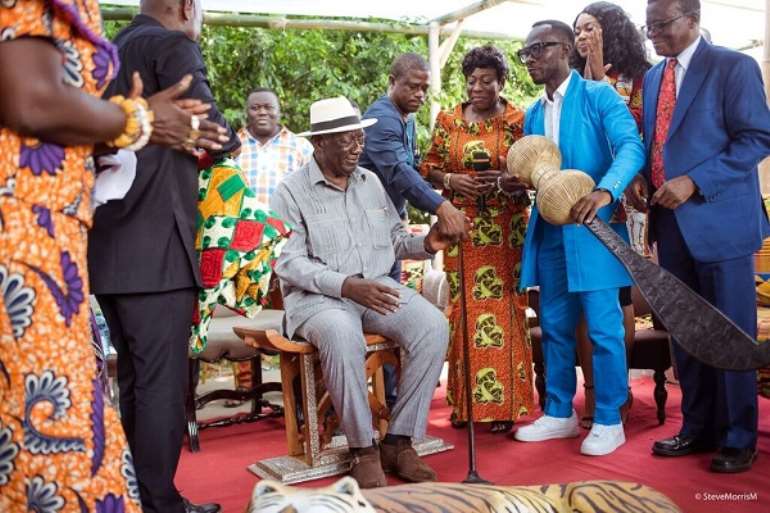 The former president was presented with the stool, which signifies the soul of the art; a colorful Kente cloth, which represents the beauty of the art and an 'akofena' (sword) which he used to swear that he would be the father of creative arts and the industry can always call on him when the need arises.
The Minister also presented 'Wear Ghana Clothing' as a sign of enforcing the wear Ghana project of the ministry.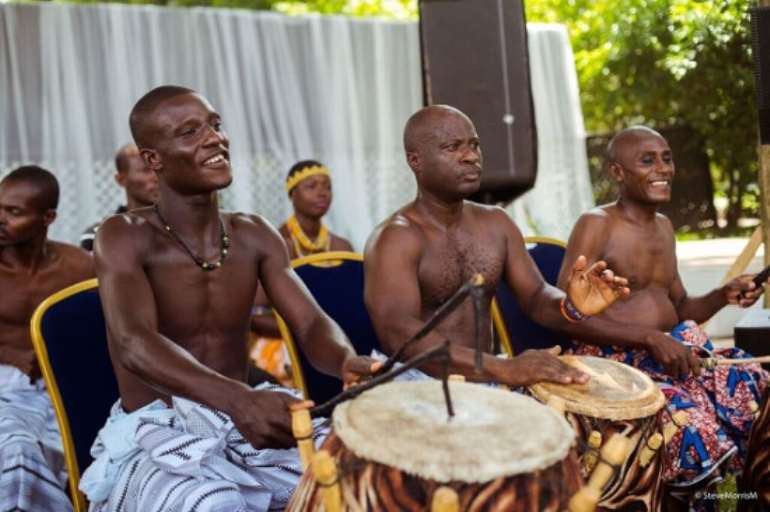 Amazing performances happened at the event. Poet Rhymesonny was at his best as he showered appellations on the former president.
Kwan Pa Palm-wine music band serenaded the guests with folk music, philharmonic choir sand spirit-uplifted choral harmonies.
Contemporary musicians Abochi and Ogo sang amazing pop songs, whilst Okyeame Kwame crowned it with an acoustic version of his hit numbers 'Small Small' and 'Faithful'.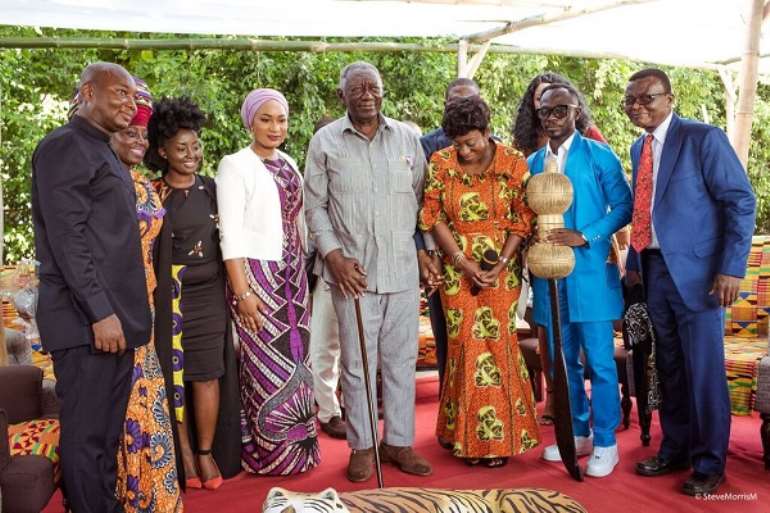 Speakers at the event included the AU Arts Festival Foundation Chairman, Mr. Kojo Ampah Sahara, CEO of JAK Foundation, Prof. Baffour Agyeman-Duah, Her Excellency Samira Bawumia and Catherine Afeku.
They spoke about the importance of the arts to national development and the need to use arts as a driving force to create employment, build national identity and pride and also give voice to the youth.
Former president Kufuor crowned the event by thanking all the artistes profoundly for honouring him immensely.