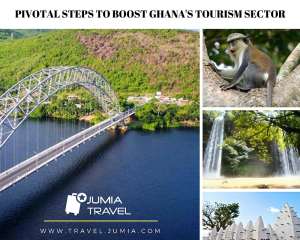 Tourism is undoubtedly the most promising sector of Ghana's developing economy. Gold, cocoa and oil have over the years been the main boosters of our economy with tourism ranking as Ghana's 4th foreign exchange earner. Tourism is diverse but very lucrative. With time, we have seen many countries in Africa evolve from war torn and underdeveloped nations into attractive tourist destinations.
Destinations of global interest where people from all walks of life spend millions just to see and experience. If countries with relatively few natural resources can make a fortune out of tourism, how then does a nature rich country like Ghana not leverage these same resources and develop. Jumia Travel , Africa's leading online travel website looks at some pivotal steps to boost Ghana's tourism sector.
1. Mould – Creation is the beginning of life. To boost our tourism, there is a great need for us to mould it well. Fortunately, we already have a good tourism sector. With historic sites, natural resources, great history, rich cultural heritage and lovely people. All that remains is for us to mould it into something beautiful. Getting the entire system working is not an easy task but to succeed, nothing comes easy. From infrastructure to transportation, security to entertainment, every facet that links to tourism has to be moulded. If we build a solid foundation, then we have something to hold on to in our quest to boost this illustrious sector of our economy. Renovating dilapidated tourist facilities and monuments as well as putting the right policies in place to regulate activities at these tourist destinations are great ways to start. Providing add on services at these tourist sites will only make them more attractive and generate more interest from foreign travellers. Accommodation is key to every tourism sector in the world. Hotels, guest houses and rest stops should be constructed very close to the tourist sites so that tourists don't have to travel long distances to find accommodation at the end of each tiring tour experience. One step closer to development.
2. Market – So imagine two stores. One in the middle of the busiest market of town, for example Accra central and the other in the centre of nowhere. Which one is more likely to get it's wares seen by many? Yes! Definitely the one in the centre of the busy market. Ever wondered why many companies spend lots of money to market their products and services? Marketing is a key activity in any endeavour of business. No matter how amazing your product or service is, you need to market it for more people to see. The more people see or hear about it, the more likely it is for them to patronize. In marketing also, you need to have a great product or service in order to sell. In our case, we have an amazing product. Talk about Kakum National Park, the Mole National Park, The Cape Coast castle, The Larabanga Mosque, Boti Falls and several other great tourist sites. Ghana has some of the very best destinations in Africa. The onus now lies with us as to let the world know what we have. Having a great product or service is one thing and making others aware of the fact that it is for sale is another thing. Celebrities and politicians can use their platforms to sell Ghana to the outside world by speaking on the tourism potential in Ghana anytime they travel outside while musicians, actors and the media can share pictures and videos on their programmes. Social media is a booming place these days and we have to make the most of it. One post on facebook can reach millions in a few minutes. Why not facebook live when you are at a tourist site? Try it, it helps.
3. Maintain – As Ghanaians, we have a certain obscure habit of innovating, building and then leaving whatever we built to gradually go waste. Honestly, our maintenance culture as a country leaves a lot to be desired. Why can't we just protect what we have if we can't make it better? We can either sit down and wallow in self pity about many tourist sites and monuments that have gone down the drain and are in terrible shapes because of the lack of proper maintenance or we can wake up and change our attitude towards general maintenance. In Ghana, people always say ''prevention is better than cure'' but we hardly live by it. More often than not, we leave our tourist sites and monuments to depreciate and get into terrible shapes before we think of maintenance. At that stage, we spend more money and resources in renovation rather. What if there was a proper maintenance strategy? What if we kept taking care of it on a regular basis. Would we end up there? Now is the time to maintain the tourist sites , monuments and supporting facilities that make our tourism grow.
Using these three M's will go a long way to help boost our tourism sector. Firstly, lets mould the industry and have a great product. Then let's market to the international community because what we have is amazing. Finally, lets protect and maintain what we have so that we can enjoy it for a long time. What we have, we hold! Ghana is beautiful and tourism has an enormous potential in boosting Ghana's economy. What are we waiting for?