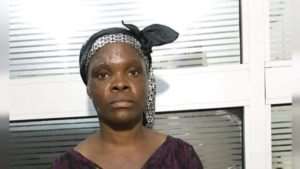 A video showing a Ghanaian policeman beating up a nursing mother in a banking hall in Accra went viral on social media, drawing condemnation and outrage from many Ghanaians.
In the said video, the Police officer is captured beating up a woman who was carrying a baby in her hands.
The lady had gone to the bank to withdraw money but the police officer on duty decided to drive her out.
John Dumelo
The policeman who assaulted the lady was seen in a photograph with recently married actor John Dumelo.
Writing on social media, Dumelo said he's friendly and takes pictures with all who ask, therefore, him being in a picture with the guy means nothing.
Dumelo, however, condemed the assault.
He wrote: "Bro, this picture must have been taken ages ago. But the policeman is a coward for doing what he did. Under no circumstance should he have physically abused that woman. I'm a friend to everyone and hence I do take pictures when asked. منصة بتواي It's unfortunate the assault incident happened but I believe the Police service will deal accordingly with the policeman. Men who beat women are cowards let alone a man assigned to protect us. God bless Ghana."
Shatta Wale
Shatta Wale has described the policeman's behaviour as 'unacceptable'. Picking a line from his 'Gringo' track, Shatta said "If you is a man beat a gyal that a bush…This is UNACCEPTABLE ."
But interestingly, Shatta Wale's post has rather caused him trouble instead of praise. Many of his followers are questioning why Shatta Wale of all people will have the guts to make such criticism.
It will be recalled that Shatta Wale was accused by Shatta Michy, his baby mama, of abusing her during their acrimonious breakup in April and his followers swiftly reminded him.
Irene Logan
Singer and song writer, Irene Logan, has described as shocking the Police brutality on the woman. Reacting to the news, Irene Logan in a tweet said: "That video shook me. But reason why I haven't commented much? منصه بتواي … I see the hypocrisy in most submissions about the issue. If she was a well-dressed, eloquent young woman in the very same situation. what would have been your sympathy level."
Mzbel
This woman wouldn't have gotten justice without the video evidence. The Police would have treated her case ordinarily and shielded their own.
It actually happened to me and two members from my team. We were brutally abused by a group of policemen in broad day light and later accused of assaulting a police officer! At the MTTU police station Tudu branch, I watched two boys from my team beaten like animals and thrown into in a cell… I was also later thrown into cell for 4 days for allegedly granting a radio interview at their premises and the fact that I was a celebrity so they wanted to show me who has power…
Kwaw Kese Kwaw Kese tweeted: "Shithole police doing his shitty best" Medikal "SHAME ON ANY MAN WHO HITS A WOMAN," tweeted rapper Medikal