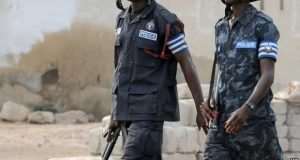 The Eastern Regional Police Command says it will seek an injunction from the court to prevent the installation of a new chief in the troubled town of Yilo Krobo.
Clashes erupted in the town between two families over the right to enstool a new chief.
Nene Azaa, who was the chief of the town, passed on and was buried two weeks ago.
But the two royal families have clashed over who installs the next chief.
Both royal gates have separately launched the community's festival, Kloyosikplemi.
The Eastern Regional Police Operations Director, DSP Kartey Otumi on Eyewitness News said they will go to court to stop the ceremony.
According to DSP Otumi, they envision more confusion at the festival hence their decision to resort to court.
"Since they have launched the festival, if anything would happen now, it will be during the festival. So now what we intend doing is to apply to the court and see how best we can forestall any further issues. When will apply to the court maybe it will give us the injunction on the festival," he added.
DSP Kartey Otumi said they did everything possible to avert the clash when they had information of the double launch of the festival.
"We are informed that there are two chieftaincy factions in the Yilo krobo traditional Area and it was time for their festival and one faction whose chief is known here, had already launched the festival and we are told to that the Queen mother of the area who is opposed to the other chief, was also going to launch another one and our intelligence gathered indicated that there was going to be a clash and we mobilized and came here in the morning."
"And when we came, it was true that the queen mother was preparing to launch, but sensing danger the local police being the district commander who received their letter earlier on advised them that intelligence gathered showed that there would be some clashes so it will not be prudent to go ahead with the launch as planned, so they intended doing it at the Lorry park which we disapproved of."
Kloyosikplem festival is celebrated by the chiefs and people of Yilo Krobo (Somanya) in the Eastern region. The festival is celebrated in November every year.