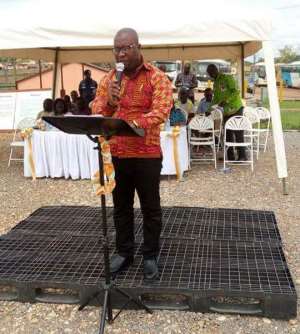 The District Chief Executive for Prestea Huni-Valley, Hon. Mozart K. Owuh has urged all Small Scale Miners (SSM) in his district to be patient with the Nana Addo Dankwa Akuffo Addo government's vision of regularising the SSM sector to inure to the benefit of every Ghanaian.
Speaking to Prestea Communicators for Development (PCD) today at Prestea, the DCE, Hon. Mozart K. Owuh stated that "currently, Prestea Unrban Council has given one of its offices, which will be used to establish Mineral Commission Office, so that, SSM activities can be regularised". He added that, "just last month, District Committee on Illegal Mining was inaugurated, and all these form key measures governments is putting in place to sanitize the Small Scale Mining sector".
He stated that, he is aware of the inconvenience the ban has done to SSM sector, but, "with patient, everything will end for the benefit of us all". "We have started the renovating Prestea Urban Council, so that, we can get the Mineral Commission Office here in Prestea" he stated.This office will help supervise the activities of SSM and help save our water bodies as well as help the SSM work under conducive environment for the benefit of the district in particular and Ghana as a whole. "The committee is also working with large scale miners, so that, they will soon lease part of their concessions to Small Scale Miners" he added.
He was however unhappy with situations where some farmers cut down their cocoa farms to do illegal mining, and said all these will not help the district and must be stopped.