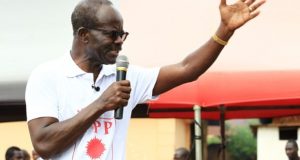 Presidential hopeful of the Progressive People's Party (PPP), Dr. Papa Kwesi Nduom, has sent a strong signal to President John Dramani Mahama and Nana Addo Dankwa Akufo-Addo to brace themselves for the shock of their lives because he is in the race to win.
He said he was sure the voting population for the December 7 polls had accepted the PPP's idea of change and also bought into the party's 10-point agenda, adding, "This has made us the preferred third force to rule Ghana come 2017."
"The time is now and the hour is close. Let all voters rise up and show to the National Democratic Congress (NDC) and the New Patriotic Party (NPP) that they cannot play with our future any longer," Dr. Nduom told supporters of the party at different rallies in the Central Region.
Dr. Nduom, who ended his 2016 electioneering campaign last Monday with a rally at Elmina, said Ghanaians deserved better leadership, saying the PPP would deliver that to the citizens.
Earlier before the three rallies, he met with some groups and institutions, including the Community Health Nursing Training College at Winneba, where he presented to them the PPP policies should the party win the election.
Among the policies, Dr. Nduom mentioned his party's free education from kindergarten to senior high school level, eliminating preventive diseases and cutting down on government expenditure.
At the Nursing Training College, Dr. Nduom assured them that his administration would not neglect their needs but will put in place mechanisms that would enhance their well-being.
He told them their allowances would be restored while their salaries would not be delayed.
Dr. Nduom also presented to the school with four projectors to aid teaching and learning at the school.
He said the PPP would eliminate any barriers that might pose danger to the progress of the country's quest to attain its development goals.
Dr. Nduom mentioned corruption and needless borrowing as some of the challenges slowing down Ghana's development agenda.
According to him, issues that continued to affect the country's growth had nothing to do with resources but everything to do with leadership.
"We have everything we need to develop as a country. What is left is the right leadership and PPP will give you the right leadership," he stated.
Touching on the issue of peace and unity, Dr. Nduom said the divisiveness among Ghanaians was as a result of the needless propaganda between the NDC and the NPP, saying only the PPP could unite the country.
"We do not engage in tribal politics and we are not asking people to vote for us because we are from a certain background. We are all Ghanaians and believe in unity and oneness," Dr. Nduom noted.