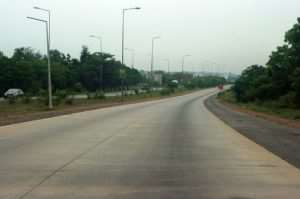 The Roads and Highways Ministry will today [Thursday] begin the closure of all illegal access routes to the Accra-Tema Motorway.
According to the Ministry is concerned with the dangers such routes, numbering over 20, present to drivers and pedestrians.
It has said the routes and the pedestrians who make use of them are often responsible for numerous accidents on the motorway.
Speaking to Citi News after inspecting some of the unauthorized routes, the sector minister, Kwesi Amoako-Atta ordered the Ghana Highways Authority to start the exercise immediately.
"We are mobilizing and all the 25 or thirty illegal entry points into the motorway on both sides; both the Tema bound and Accra bound side are going to blocked, and it is a major exercise by my Ministry through the Ghana Highway Authority.
Meanwhile, the Ministry has also resolved to evict squatters along the Accra-Tema Motorway within two months.
This is however contrary to a two week directive from the Vice President Dr. Mahamudu Bawumia.
According to the Ministry, many processes must be followed before the eviction exercise is done hence the extension.
"I said within two months because we have to go through certain process but the vice president was backing me up and I was encouraged by his statement.
The evictions plans come amid moves by the government to expand the current four-lane motorway into six lanes.
The 19-kilometre long highway was constructed under the administration of Ghana's first president, Dr. Kwame Nkrumah. It was opened to traffic in 1965.
The purpose of the motorway was to link the harbour city of Tema to Accra. It is the only motorway in Ghana.
The Tema Motorway, which some have argued that it no longer serves its purpose, has been reduced to a highway due to uncontrolled human activities such as illegal settlements and illegal bus stops created along the stretch.