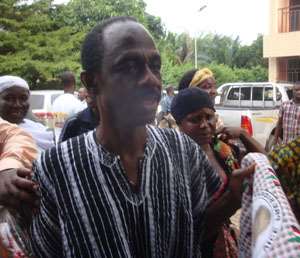 Asiedu Nketia
The General Secretary of the main opposition National Democratic Congress (NDC), Johnson Asiedu Nketia, has called on President Akufo-Addo to dismiss the Minister of Education, Dr. Mathew Opoku Prempeh over the Comprehensive Sexuality Education (CSE) saga.
The idea of introducing a CSE from KG to Primary 6 in Ghana keeps dominating public discussions.
'General Mosquito' as he is popularly called, stressed that President Akufo-Addo and NAPO's posture suggests they are endorsing the LGBT community.
"The Education Minister lied to Ghanaians, they wanted to secretly introduce the CSE into our school curriculum but now they are telling us there is nothing like that, NAPO must be fired as soon as possible for his incompetence,we have better people who can handle that portfolio," Asiedu Nketia told Kwame Tutu on Anopa Nkomo on Accra-based Kingdom FM 107.7.
According to him, the funding for that project was featured in the 2019 budget statement presented to Parliament by the Finance Minister Ken Ofori Atta and he doesn't understand why Dr. Mathew Opoku Prempeh is still in office after misleading the President.
"We wish to place on record that we are on all force with the leadership of moral society, parents, civil society groups and members of the general Ghanaian public who have voiced their revulsion over the introduction of CSE both in schools and at the community level…"
He said the CSE was an affront to national values, cultural norms, and religious beliefs and expressed regret that the government was trying to introduce it into Ghana's educational curriculum.
Mr. Asiedu Nketia said the government cannot exonerate itself from this issue because it was captured in the budget although the CSE has been suspended.
Background
The Ghana Education Service has said the guidelines circulating on social media purporting to be for the CSE had not been approved while the Education Minister, Dr. Mathew Opoku Prempeh, had stressed the new curricula for basic schools did not contain CSE.
Ghana and the United Nations Educational, Scientific and Cultural Organisation (UNESCO) launched the CSE program this year in a bid to empower adolescents and young people to deepen their scope of existing activities to attain a Comprehensive Sexuality Education (CSE).
Known as the "Our right, Our lives, Our Future," the CSE is supported by the governments of Sweden and Ireland.
It is being implemented in Ghana, Eswatini (formerly Swaziland), Malawi, Tanzania, Zambia and Zimbabwe for the effective delivery of quality comprehensive sexuality programs.
By : Richard Obeng Bediako / Kingdom 107.7 FM / Kingdomfmonline.com / Richardobengbediako@gmail.com / Ghana / 2019