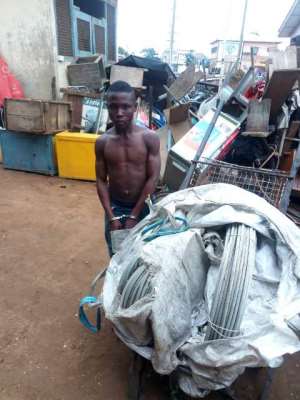 Okey Seghou, an 18 year old school dropout has been sentenced by an Aflao Magistrate Court presided over by Mr Frimpong Manso to eight months in prison for stealing electrical cables belonging to the Electricity Company of Ghana (ECG).
The cables were part of materials being used by the Company in the construction of a new network line from its Aflao Bulk Supply Point (BSP) to Keta, estimated at GH¢6,700.00.
Presenting the facts of the case, the Prosecutor said the suspect was spotted by a resident of Aflao at about 0400 hours on Wednesday July 18, 2018, in the company of another, carting electrical cables.
He said Seghou was confronted by the vigilante but he failed to provide reason for possessing the goods, and was escorted to the Police Station.
The Prosecutor said Seghou's accomplice however absconded during the confrontation.
He said Seghou claimed his accomplice named Eskala was his brother who had asked for his assistance to convey the cables to Avoeme for sale.